Star Trek: Enterprise
---
"Fortunate Son"
| | |
| --- | --- |
| Episode Number | 10 (1.10) |
| Production Number | 10 |
| Season | 1 |
| Stardate | |
| Original Airdate | 21-Nov-2001 |
| Teleplay | James Duff |
| Director | LeVar Burton |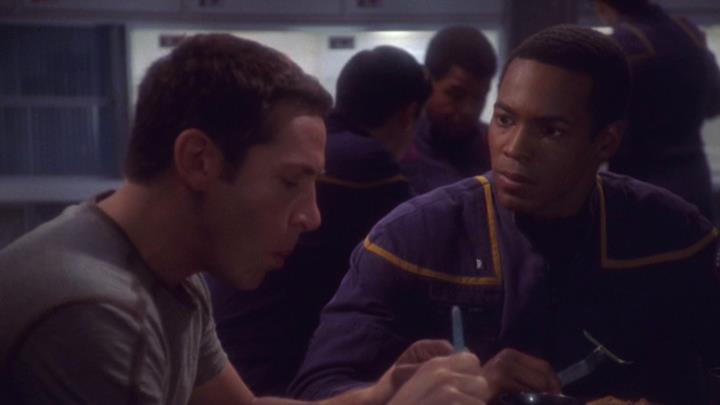 Synopsis
The Enterprise crew is dispatched by Starfleet Command to assist the E.C.S. Fortunate, a human freight vessel that has been attacked by Nausicaan pirates. On arrival, they are surprised to find that Fortunate's crew is resistant to Archer's efforts to help them and determined to seek revenge against their attackers, no matter what the repercussions.
Guest Cast
Lawrence Monoson (Matthew Ryan)
Kieran Mulroney (Shaw)
Vaughn Armstrong (Admiral Maxwell Forrest)
Danny Goldring (Nausicaan Captain)
Charles O. Lucia (Captain Keene)
D. Elliot Woods (Nausicaan Prisoner)
Daniel Asa Henson (Boy)
Elyssa D. Vito (Girl)
Porthos
Notes
The E.C.S., Earth Cargo Service, governs the ships used to carry freight between star systems on Earth's trade routes.

The E.C.S. Fortunate is a Y-Class freighter, maximum speed of warp 1.8, crew compliment 23.

Mayweather grew up on the E.C.S. Horizon, a J-Class freighter, which is a smaller ship of the same configuration. His family runs the ship. He feels guilty for joining Starfleet and "abandoning" his family.

Enterprise is preparing to deploy a subspace communications amplifier.
---