Star Trek: Enterprise
---
"Silent Enemy"
| | |
| --- | --- |
| Episode Number | 12 (1.12) |
| Production Number | 12 |
| Season | 1 |
| Stardate | Sep. 1, 2151 |
| Original Airdate | 16-Jan-2002 |
| Teleplay | André Bormanis |
| Director | Winrich Kolbe |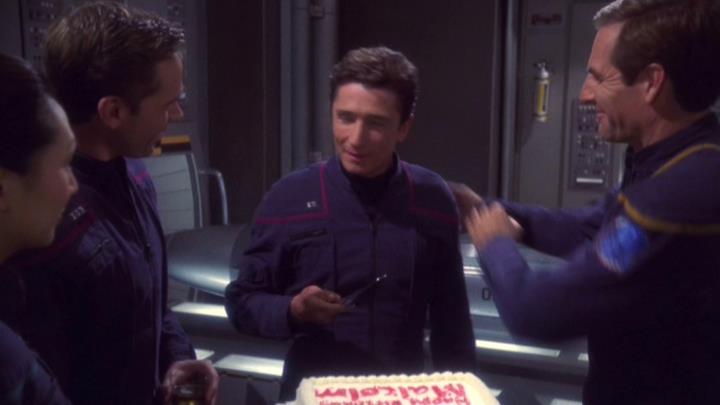 Synopsis
When the Enterprise is attacked by an unidentified enemy ship, the crew must work frantically to get their new phase cannons to operate. Meanwhile, Archer realizes that no one knows Reed well enough to give him a personalized birthday gift.
Guest Cast
Jane Carr (Mary Reed)
Guy Siner (Stuart Reed)
Paula Malcomson (Madeline Reed)
John Rosenfeld (Lt. Mark Latrelle)
Robert Mammana (Engineer [Eddie])
Porthos
Notes
Enterprise deploys Echo Two, one in a series of subspace amplifiers that will allow more frequent, near real-time communication with Earth. The aliens destroyed Echo One and Echo Two, but they deploy a replacement.

Enterprise was designed to carry three phase cannons, two forward and one aft. Because they left space dock early, they were not installed. They left dock with one prototype phase cannon, and built the other two.

Malcolm's favorite flavor of cake is pineapple.
---