"Will & Grace" News Archive - 2001
HBO, NBC Lead Golden Globe Nods (12/20/01)
The Hollywood Foreign Press Association bestowed 19 Golden Globe nominations on HBO Thursday (Dec. 20), more than any other TV network. NBC -- which broadcasts the annual awards dinner -- was second with 15 nominations, followed by ABC with 11 and FOX with six. CBS, the leader in the network ratings, picked up just three nominations. TNT was nominated twice, and The WB and Lifetime once each. Somewhat surprisingly, NBC's "Will & Grace" earned more nods (five) than any other show. It was nominated for best comedy series, and all four of its principal cast members -- Debra Messing, Eric McCormack, Megan Mullally and Sean Hayes -- were recognized as well. HBO's critical favorite and multiple Emmy winner "The Sopranos" picked up four nominations, for best drama series and the performances of James Gandolfini, Edie Falco and Lorraine Bracco. NBC's "The West Wing" also was nominated four times, for best drama and the acting of Martin Sheen, Allison Janney and Bradley Whitford. The other nominees for best drama series are FOX's "24," ABC's "Alias," CBS' "CSI: Crime Scene Investigation" and HBO's "Six Feet Under." Joining "Will & Grace" as nominees for best comedy series are NBC's "Frasier" and "Friends," FOX's "Ally McBeal" and HBO's "Sex and the City." In movies, "A Beautiful Mind" and "Moulin Rouge" led the pack with six nominations apiece, followed by Robert Altman's "Gosford Park" with five. "The Lord of the Rings: Fellowship of the Ring" and "Mulholland Drive" earned four each. Nicole Kidman was nominated twice for best actress -- for "Moulin/Rouge" in the comedy/musical category and "The Others" in the drama category. The Golden Globes will be broadcast at 8 p.m. ET Sunday, Jan. 20 on NBC.
(Source: Zap2it.com)
Eric McCormack wins Outstanding Lead Actor in a Comedy Series (11/04/01)
Of the 12 Emmy nominations for "Will & Grace," the show only walked away with one win: Outstanding Lead Actor in a Comedy Series was awarded to Eric McCormack for his portrayal of Will Truman. Congratulations to Eric!
Michael Angarano signs 5-year Contract (9/25/01)
Michael Angarano has signed on with "Will & Grace" for a 5 year term, and is added to the cast as a series regular. Michael, who plays Jack's new found son Elliott, was introduced to viewers on last seasons series finale.
(Source: Irvin)
Must See Premiere Week Delayed; Emmy Awards Postponed (9/14/01)
Due to coverage of the terrorist Attack on America, Must See TV premiere week will be delayed one week. The 53rd annual Emmy Awards, scheduled for September 16th, have been postponed until October 7th. On a personal note, my heart goes out to all of the victims and their families.
Sean Hayes helps gun-shot victim (8/15/01)
A star of the television comedy "Will & Grace" recently found himself in a real-life drama. Sean Hayes, who plays the flamboyant sidekick Jack on the show, was driving in Los Angeles Friday night when he saw a man in the street. His publicist says that Hayes pulled over, called 911, took off his shirt and pressed it against the man's wound to stop the bleeding. The victim says he was shot during a holdup in his driveway. He was treated at a hospital for a leg wound. Hayes says he was cautious about the whole thing -- not knowing what was going on, or if someone dangerous might be around. Officials say Hayes stayed at the scene until paramedics and police arrived.
(Source: BJ Lutz)
'Will & Grace' snags 12 Emmy Nominations (7/12/01)
"Will & Grace" received 12 Emmy nominations, including Outstanding Comedy and all lead actors. The complete list of nominations: OUTSTANDING ART DIRECTION FOR A MULTI CAMERA SERIES: "Lows in the Mid-Eighties" - Glenda Rovello and Melinda Ritz; OUTSTANDING CASTING FOR A COMEDY SERIES: Tracy Lilienfield, casting executive; OUTSTANDING CINEMATOGRAPHY FOR A MULTI CAMERA SERIES: "Sons and Lovers" - Tony Askins; OUTSTANDING COSTUMES FOR A SERIES: "Lows in the Mid-Eighties" - Lori Eskowitz-Carter and Mary Wallbridge; OUTSTANDING DIRECTING FOR A COMEDY SERIES: "Lows in the Mid-Eighties" - James Burrows; OUTSTANDING MULTI CAMERA PICTURE EDITING FOR A SERIES: "Lows in the Mid-eighties" - Peter Chakos; OUTSTANDING LEAD ACTOR IN A COMEDY SERIES: Eric McCormack as Will Truman; OUTSTANDING LEADING ACTRESS IN A COMEDY SERIES: Debra Messing as Grace Adler; OUTSTANDING SUPPORTING ACTOR IN A COMEDY SERIES: Sean Hayes as Jack McFarland; OUTSTANDING SUPPORTING ACTRESS IN A COMEDY SERIES: Megan Mullally as Karen Walker; OUTSTANDING COMEDY SERIES: Will and Grace; OUTSTANDING WRITING FOR A COMEDY SERIES: "Lows in the Mid-Eighties" - Jeff Greenstein.
Real-Life Jack Sues 'Will & Grace' (3/18/01)
"Just Jack" may need to be amended to "Jack and his real-life counterpart, Jack." A man named Jack Deamer, who says he inspired the animated Jack McFarland portrayed by Sean Hayes on "Will & Grace," is suing the NBC sitcom's creators, claiming they promised to pay him for the use of his persona, according to Inside.com. In a lawsuit filed in Los Angeles Superior Court, Deamer says he initially agreed to remain silent about his embarrassment at being portrayed as "flamboyantly gay." In exchange, creators Max Mutchnick and David Kohan promised to buy him a house and car – which they haven't, he charges. Deamer claims that Mutchnick and Kohan have publicly admitted the Jack character is based on him, and that Deamer has served as a creative consultant on the sitcom. He values the promised house at a half-million dollars, and is asking for equivalent compensation or an order preventing NBC from airing any episodes depicting Jack.
(Source: Zap2it)
Must-See TV Brings in Lowest Ratings in 7 Years (3/14/01)
NBC last week was hit with a costly double whammy: Not only was it forced to endure the lowest ratings of any major network program with its XFL telecast on Saturday night (3/10/01), but its Robert Halmi-produced miniseries
The Lost Empire
became the lowest-rated TV miniseries in history. Yet a third humiliation: its Must-See TV lineup on Thursday night (3/8/01), all reruns, wound up in third place behind CBS's and ABC's first-runs, the first time that had happened since May, 1994. On the other hand, CBS had much to cheer about as its "Survivor: The Australian Outback" and "CSI: Crime Scene Investigation" took first- and second-place Nielsen honors for the week. The network wound up with a 8.4 average and a 14 share, the sixth time in the last seven weeks that it has won the ratings race. ABC was in second place with a 8.1/13, thanks in large measure to the continued strong pull of "Who Wants to Be a Millionaire." NBC was third with a 7.0/11, followed by Fox with a 5.4/9.
(Source: IMDb)
"W&G" Cast wins SAG Ensemble Award (3/11/01)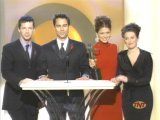 The cast of "Will & Grace" was awarded the
Outstanding Performance by an Ensemble in a Comedy Series
award by the Screen Actors Guild at the 7th Annual SAG Awards. "Will & Grace" also received three other SAG nominations: Debra Messing and Megan Mullally for Outstanding Performance by a Female Actor in a Comedy Series and Sean Hayes for Outstanding Performance by a Male Actor in a Comedy Series. The awards were presented at the Los Angeles Shrine Exposition Center on Sunday, March 11, 2001. Two randomly selected panels of 2100 SAG members from across the United States select the nominees for television and motion pictures. The final ballot then goes out to the entire active membership of the Guild, approximately 98,000 members, who select the outstanding performances of the year.
(Source: Rob Durfee)
James Burrows wins DGA Award (3/10/01)
Director James Burrows won the Director's Guild of America (DGA) award for Outstanding Directorial Achievement in Comedy Series for the "Will & Grace" episode
"Lows in the Mid-Eighties"
. It was the fourth DGA win for Burrows, who is the most nominated director in DGA history with 17 nominations. Awards were given out Saturday March 10th at the Century Plaza Hotel in Los Angeles.
(Source: Andrew Levy, DGA)
Molly Shannon to reappear on 'W&G' in May (3/02/01)
'Saturday Night Live' alum Molly Shannon pops up for her third installment on Will & Grace as "loon-a-chick" Val, who stalks Jack like an obsessed fan after he relaunches his forever-flopping cabaret show.
(Source: Todd Myers)
Woody Harrelson to appear on 'W&G' in May (2/27/01)
When Woody Harrelson starred as a small-town boy wooing wealthy Kelly on the long-running bar comedy Cheers, he got the girl. Does he still have the winning touch? Will & Grace viewers will have the chance to decide when Harrelson appears as Grace's new beau on the savvy NBC comedy. According to The Hollywood Reporter, the Emmy-winning actor has inked a deal to appear in four episodes of Will & Grace during May sweeps. Harrelson, who played dim-witted bartender Woody on Cheers, has had good luck in guest slots: His 1999 appearance on Frasier (which features his former Cheers co-star Kelsey Grammer) also garnered him an Emmy nom. "Everybody here at Will & Grace had a woody over Woody," enthused Will & Grace executive producer David Kohan to the Reporter. "It feels like a real coup." Harrelson will turn on his aw-shucks charm to win over picky Grace, portrayed by Debra Messing.
(Source: Dave Garcia)
Sean Hayes to Host 'Saturday Night Live' (2/05/01)
Sean Hayes will host the February 17 episode of "Saturday Night Live," with previously announced musical guest Shaggy, according to insiders. Hayes, who last year won an Emmy for his supporting role on "Will & Grace," is an alumnus of the famed Second City improv comedy troupe -- where many past and present "SNLers" got their start. He has held gigs as a stand-up comic and appeared in several national television commercials, including Doritos, Pepsi, Geico Insurance, and Bud Light.
(Source: Joel N.)