U.S.S. RIO GRANDE NCC-72452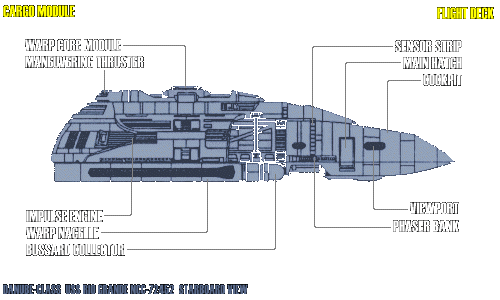 ---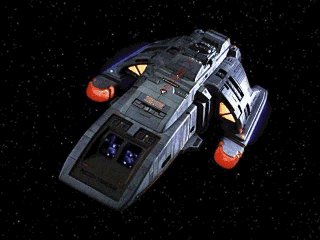 Starfleet commissioned the first Danube-class starships in 2368. Commonly called "runabouts," they are used primarily for short-range interstellar warp travel and missions, and are equipped with a warp-5 engine. Danube-class runabouts are typically used as auxiliary craft for starbase personnel.

Resembling a large shuttlecraft, the Danube-class runabouts are the smallest registered vessels in Starfleet. The cockpit has seating for four people, including a two-person flight crew (pilot and ops), and also contains a two-person transporter pad.

The runabout's aft section contains a living area, with bunks, a table, and a food replicator. It can readily accomodate up to sixteen passengers. The aft section design is modular, which allows the vessels to be constructed with mission-specific customizations.
SPECIFICATIONS
| | |
| --- | --- |
| NAME/REGISTRY | U.S.S. Rio Grande NCC-72452 |
| CLASSIFICATION | Danube-Class Runabout |
| YEAR COMMISSIONED | 2368 |
| LENGTH | 25 M |
| WIDTH | 14 M |
| HEIGHT | 5 M |
| WEIGHT | 160 MT |
| DECKS | 1 |
| CREW COMPLIMENT | 2 |
| PRIMARY PROPULSION | Matter/Antimatter Reactor (warp core) |
| SECONDARY PROPULSION | Deuterium Fusion Drive motors (impulse engines) |
| WARP FACTOR | 2.0 (Cruise Velocity); 5.0 (Max) |
| ARMAMENT | Type-V Phaser banks |
| COMPUTER CORE | 1 Main Computer Core |
| AUXILIARY CRAFT | N/A |
NOTABLE DANUBE-CLASS STARSHIPS
| REGISTRY | DESIGNATION | CMD. OFFICER | NOTES |
| --- | --- | --- | --- |
| NCC-72452 | U.S.S. Rio Grande | | Transferred from U.S.S. Enterprise NCC-1701D to station DS9 in 2369 ("Emissary") |
| NCC-72453 | U.S.S. Yangtzee Kiang | | Destroyed in Gamma Quadrant in 2369; Replaced by U.S.S. Orinoco ("Battle Lines") |
| NCC-72454 | U.S.S. Ganges | | Destroyed at T'Lani III in 2370; Replaced by U.S.S. Mekong ("Armageddon Game") |
| NCC-72905 | U.S.S. Orinoco | | Core breached by Cardassians in 2372; Replaced by U.S.S. Yukon ("Our Man Bashir") |
| NCC-72917 | U.S.S. Mekong | | Destroyed by the Jem'Hadar in 2371; Replaced by U.S.S. Rubicon ("The Die is Cast") |
| NCC-72936 | U.S.S. Rubicon | | Assigned to station DS9 in 2371 ("Family Business") |
| NCC-73196 | U.S.S. Volga | | Assigned to station DS9 in 2372 ("Body Parts") |
| NCC-74602 | U.S.S. Yukon | | Commandeered by Changeling, destroyed by U.S.S. Defiant in 2373 ("By Inferno's Light") |
---