U.S.S. SHENZHOU NCC-1227

---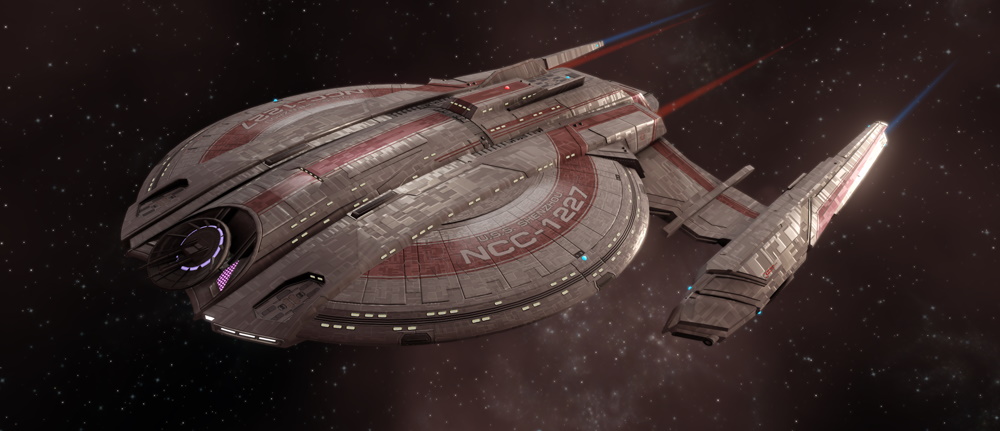 The Walker-class starship is a light exploration cruiser in service in the 23rd century. By the 2250s, it had been in service for many years and was nearing end-of-life.

Unlike most Starfleet vessels, the bridge was located on the underside of the saucer section, on Deck 7.

In 2256, the U.S.S. Shenzhou, commanded by Captain Philippa Georgiou, was dispatched to repair a communications relay at the edge of Federation space. They encountered an unknown vessel, identified as a Klingon sarcophagus ship or "ship of the dead." First officer Commander Michael Burnham inadvertently killed the ship's torchbearer, as the ship lie in wait for a Starfleet vessel. The ship's commander, T'Kuvma, used this incident to unite several of the great Klingon houses into starting a war with the Federation.

The U.S.S. Shenzhou, along with Captain Georgiou, were lost at the Battle of the Binary Stars.
SPECIFICATIONS
| | |
| --- | --- |
| NAME/REGISTRY | U.S.S. Shenzhou NCC-1227 |
| CLASSIFICATION | Walker-Class Light Explorer |
| YEAR COMMISSIONED | 2235 |
| LENGTH | 257 M |
| WIDTH | 135 M |
| HEIGHT | 36 M |
| WEIGHT | MT |
| DECKS | 15 |
| CREW COMPLIMENT | 150 |
| PRIMARY PROPULSION | Matter/Antimatter Reactor (warp core) |
| SECONDARY PROPULSION | Deuterium Fusion Drive motors (impulse engines) |
| WARP FACTOR | Classified |
| ARMAMENT | Classified |
| COMPUTER CORE | Classified |
| AUXILIARY CRAFT | Classified |
NOTABLE WALKER-CLASS STARSHIPS
| REGISTRY | DESIGNATION | CMD. OFFICER | NOTES |
| --- | --- | --- | --- |
| NCC-1227 | U.S.S. Shenzhou | Capt. Philippa Georgiou | Abandoned at the Battle at the Binary Stars after battle with the Klingons ("Battle at the Binary Stars") |
---