U.S.S. ENTERPRISE NCC-1701-C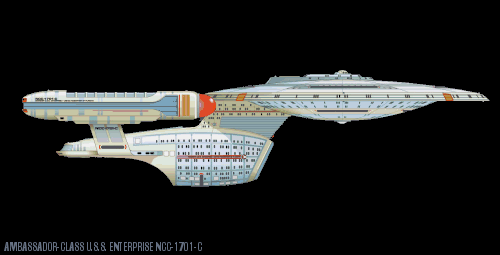 ---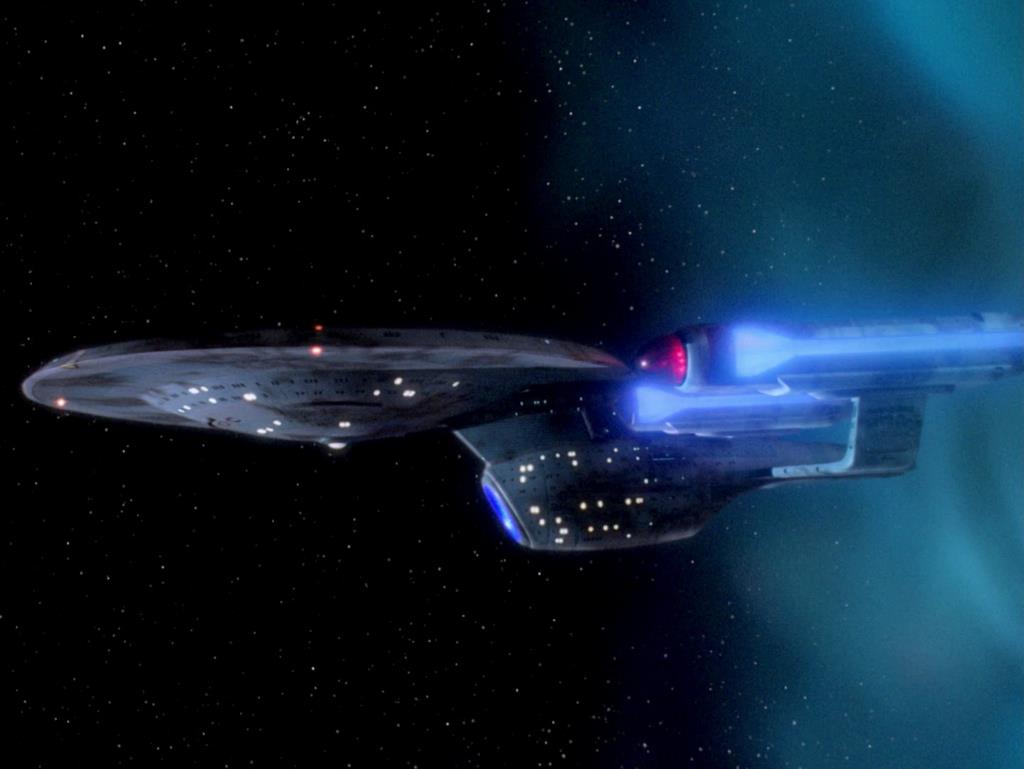 Increasing conflicts between the Federation and the Klingons and Romulans led to Starfleet's interest in battlecruisers. In 2329 the Ambassador-class specification was submitted and approved by Starfleet. The Ambassador has upgraded defensive and weapons systems and features thick duranium plate armor covering key areas of the outer hull, protecting the ship from heavy bombardment.

Production of the U.S.S. Ambassador NX-10521 began at Earth Station McKinley in 2332 and was completed and officially launched in 2341.

The U.S.S. Enterprise NCC-1701-C was commissioned in 2343, commanded by Captain Rachel Garrett. In 2344, the Enterprise-C was destroyed in battle while protecting a Klingon outpost on Narendra III. The outpost was under attack by the Romulans and the Enterprise answered their distress call. The Klingon Empire viewed this as honorable and it paved the way for peace talks and the subsequent alliance between the Federation and Klingons. There were rumors that some Enterprise crew members may have survived as Romulan prisoners. In 2368, Romulan Commander Sela told Captain Jean-Luc Picard of the U.S.S. Enterprise NCC-1701-D that Lt. Natasha Yar was on the Enterprise NCC-1701-C and was captured by the Romulans. To save the lives of the prisoners, she became a Romulan general's consort and Sela was born a year later.
SPECIFICATIONS
| | |
| --- | --- |
| NAME/REGISTRY | U.S.S. Enterprise NCC-1701-C |
| CLASSIFICATION | Ambassador-Class Battlecruiser |
| YEAR COMMISSIONED | 2245 |
| LENGTH | 526 M |
| WIDTH | 300 M |
| HEIGHT | 130 M |
| WEIGHT | 200,000 MT |
| DECKS | 38 |
| CREW COMPLIMENT | 700 |
| PRIMARY PROPULSION | Matter/Antimatter Reactor (warp core) |
| SECONDARY PROPULSION | Deuterium Fusion Drive motors (impulse engines) |
| WARP FACTOR | 7.0 (Cruise Velocity); 8.5 (Sustainable); 9.0 (Max) |
| ARMAMENT | Type-VII Phaser Arrays (5.1 MW); 3 Mark-VIII and Mark-IX Photon Torpedo Launchers |
| COMPUTER CORE | Redundant LCARS computer cores. Isolinear optical circuits. |
| AUXILIARY CRAFT | Classified |
NOTABLE AMBASSADOR-CLASS STARSHIPS
| REGISTRY | DESIGNATION | CMD. OFFICER | NOTES |
| --- | --- | --- | --- |
| NCC-1701-C | U.S.S. Enterprise | Capt. Rachel Garrett | Destroyed at Narendra III by Romulans in 2344 ("Yesterday's Enterprise") |
| NCC-26510 | U.S.S. Yamaguchi | | Destroyed by the Borg at Wolf 359 in 2367 ("The Best of Both Worlds, Part II") |
| NCC-26517 | U.S.S. Excalibur | Capt. Calhoun | Part of Picard's Romulan Blockade 2367-2368 ("Redemption, Part II") |
| NCC-26531 | U.S.S. Exeter | | Tom Paris |
| NCC-62136 | U.S.S. Zhukov | Capt. Gleason | Lt. Barclay's assignment before the U.S.S. Enterprise |
---