Star Trek: The Next Generation
---
"Timescape"
| | |
| --- | --- |
| Episode Number | 151 (6.25) |
| Production Number | 251 |
| Season | 6 |
| Stardate | 46944.2 |
| Original Airdate | 14-Jun-1993 |
| Teleplay | Brannon Braga |
| Director | Adam Nimoy |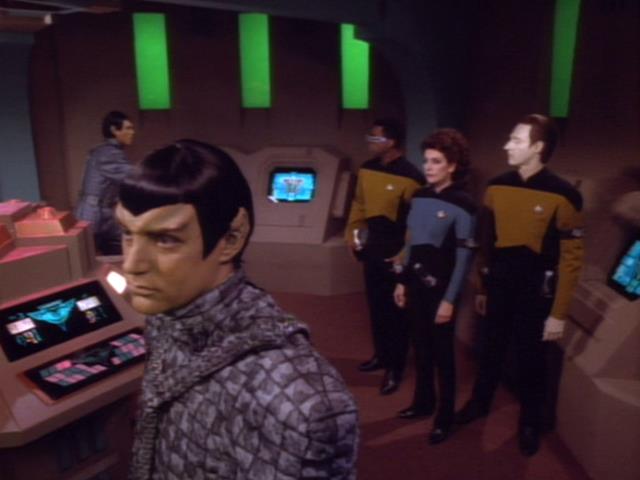 Synopsis
Returning from a conference via runabout, Picard, Troi, Data and La Forge find the Enterprise and a Romulan Warbird motionless, locked in time — and mid-battle.
Guest Cast
Michael Bofshever (Alien Romulan)
Joel Fredericks (Ensign in Engineering)
John DeMita (Romulan in Sickbay)
Notes
This is the first episode to show the aft section of a runabout. (The runabouts were created for Deep Space Nine. They constructed the set using the Next Generation budget to help out DS9.)

The aliens nested their young inside the Warbird engine core's artificial quantum singularity power source. The power transfer caused the temporal fragmentation. (A quantum singularity is a black hole.)

Deanna spent several days on the Romulan Warbird Khazara in the episode "Face of the Enemy".

Deanna is seen "plexing," which she taught Barclay in "Realm of Fear".
---