Star Trek: The Next Generation
---
"Rightful Heir"
| | |
| --- | --- |
| Episode Number | 149 (6.23) |
| Production Number | 249 |
| Season | 6 |
| Stardate | 46852.2 |
| Original Airdate | 17-May-1993 |
| Story | James E. Brooks |
| Teleplay | Ronald D. Moore |
| Director | Winrich Kolbe |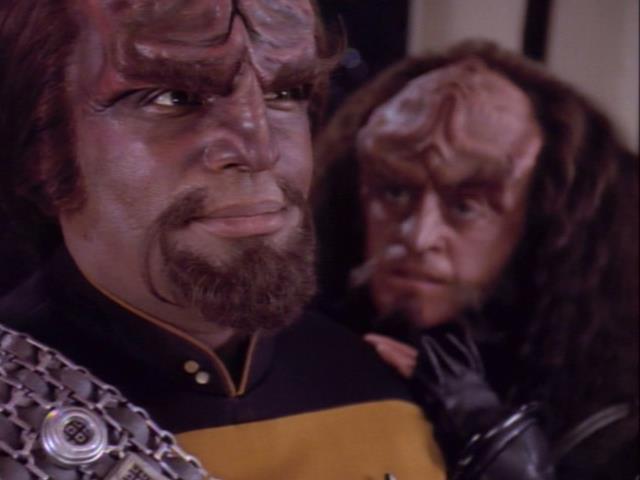 Synopsis
When Worf takes leave to resolve a spiritual crisis, he witnesses the resurrection of the legendary Klingon warrior Kahless, who now wants control of the Klingon Empire.
Guest Cast
Robert O'Reilly (Chancellor Gowron)
Kevin Conway (Kahless)
Alan Oppenheimer (Koroth)
Norman Snow (Torin)
Charles Esten (Divok)
Notes
Worf takes leave to the Klingon monestary on Boreth.

Kahless is found to be a clone of the original Kahless created by Koroth. He becomes the unofficial "Emperor" of the Klingon Empire, however Chancellor Gowron and the High Council have official power, while Kahless tends to spiritual matters. The "Jurassic Klingon" was created using blood from an ancient knife (the Knife of Kirom) and "programmed" with the stories from Klingon mythology.

Worf's brother, Kurn, now has a seat on the High Council.

This is Gowron's final appearance on The Next Generation. He will later become a recurring character on Deep Space Nine, first appearing in the 3rd season's "The House of Quark".

La Forge and Troi do not appear in this episode.
---