Star Trek: The Next Generation
---
"Starship Mine"
| | |
| --- | --- |
| Episode Number | 144 (6.18) |
| Production Number | 244 |
| Season | 6 |
| Stardate | 46682.4 |
| Original Airdate | 01-Mar-1993 |
| Teleplay | Morgan Gendel |
| Director | Cliff Bole |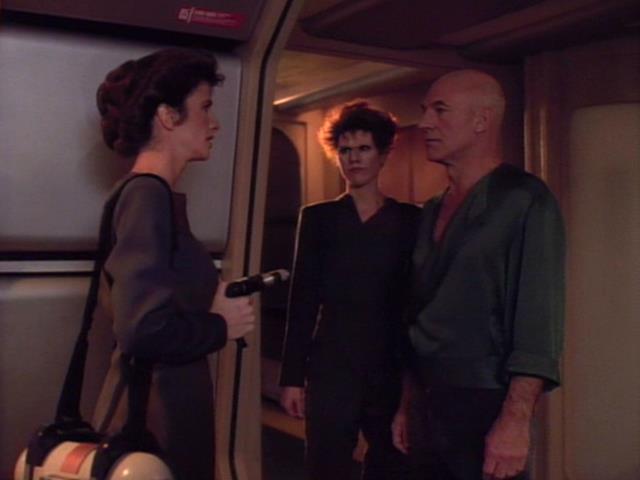 Synopsis
While the Enterprise is docked at the Arkaria Base's Remmler Array for a baryon radiation sweep, Picard becomes trapped aboard the Enterprise with a group of intergalactic thieves stealing the ship's radioactive waste after the rest of crew evacuates.
Guest Cast
David Spielberg (Cmdr. Calvin "Hutch" Hutchinson)
Marie Marshall (Kelsey)
Tim Russ (Devor)
Glenn Morshower (Administrator Orton)
Tom Nibley (Neil)
Tim deZarn (Satler)
Patricia Tallman (Kiros)
Alan Altshuld (Pomet)
Arlee Reed (Waiter)
Notes
The Remmler Array orbits the planet Arkaria. The Array eliminates accumulated baryon particles from the starship. Because the baryon sweep is deadly to organic tissue, all crew must be evacuated to Arkaria Base on the planet surface.

"Hutch" previously met Beverly, apparently when she was at Starfleet Medical during Season 2. He was transferred to Arkaria Base from Starbase 97, apparently an interesting story.

Orton kills Commander Hutchinson. (He hits La Forge as well, but La Forge lives, naturally.)

Picard tells Kelsey that he is Mot the barber. They are stealing Trilithium resin, which is highly toxic and explosive.

Tim Russ (Devor) will go on to play Tuvok on Star Trek: Voyager.
---