Star Trek: The Next Generation
---
"Inner Light"
| | |
| --- | --- |
| Episode Number | 125 (5.25) |
| Production Number | 225 |
| Season | 5 |
| Stardate | 45944.1 |
| Original Airdate | 08-Jun-1992 |
| Story | Morgan Gendel |
| Teleplay | Morgan Gendel & Peter Allan Fields |
| Director | Peter Lauritson |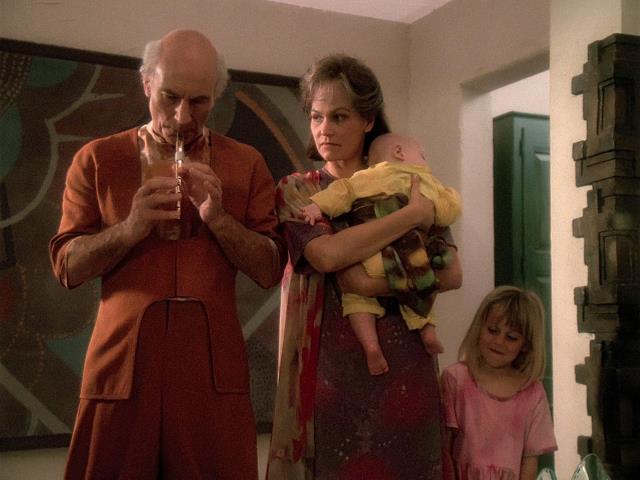 Synopsis
Captain Picard is propelled by a beam from a probe into another man's life on another world, where he has a wife, a son and daughter and grandchildren. On the Enterprise, he seems to be unconscious, linked to the probe's beam.
Guest Cast
Margot Rose (Eline)
Richard Riehle (Batai)
Scott Jaeck (The Administrator)
Jennifer Nash (Meribor)
Patti Yasutake (Nurse Alyssa Ogawa)
Daniel Stewart (Young Batai)
Notes
Picard is given the lifetime of memories of Kamin, an iron weaver in the community of Ressik on the planet Kataan.

The probe was launched by the dying world 1000 years ago. The probe also carried the Ressikan Flute that Picard is now able to play.

Deanna Troi does not appear in this episode.

Young Batai is played by Patrick Stewart's real life son, Daniel.

This is a very popular episode among TNG fans.
---