Star Trek: The Next Generation
---
"Violations"
| | |
| --- | --- |
| Episode Number | 112 (5.12) |
| Production Number | 212 |
| Season | 5 |
| Stardate | 45429.3 |
| Original Airdate | 03-Feb-1992 |
| Story | Shari Goodhartz & T. Michael Gray & Pamela Gray |
| Teleplay | Jeri Taylor & Pamela Gray |
| Director | Robert Weimer |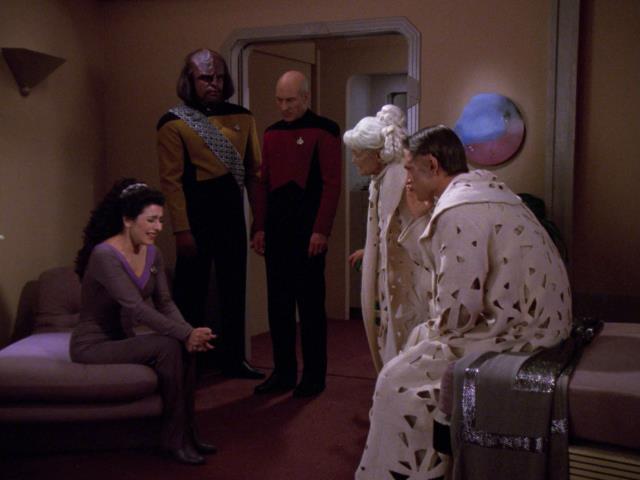 Synopsis
Troi, Riker, and Dr. Crusher fall into inexplicable comas after telepathic aliens, the Ulians, come aboard the Enterprise. The Ulians are suspected of invading their minds against their will.
Guest Cast
Rosalind Chao (Keiko O'Brien)
Ben Lemon (Jev)
David Sage (Tarmin)
Rick Fitts (Dr. Martin)
Eve Brenner (Inad)
Doug Wert (Lt. Cmdr. Jack Crusher)
Craig Benton (Crewman Davis)
Notes
During her violation, Troi's memory is of her and Riker after one of the crew's poker games; Riker's memory is of a disaster in Engineering which resulted in the death of Ensign Keller; Beverly's memory is of when Picard took her to see her husband's body.

Doug Wert also played Jack Crusher in the episode "Family", where he appeared in a holographic message to Wesley.
---