Star Trek: The Next Generation
---
"Hero Worship"
| | |
| --- | --- |
| Episode Number | 111 (5.11) |
| Production Number | 211 |
| Season | 5 |
| Stardate | 45397.3 |
| Original Airdate | 27-Jan-1992 |
| Story | Hilary J. Bader |
| Teleplay | Joe Menosky |
| Director | Patrick Stewart |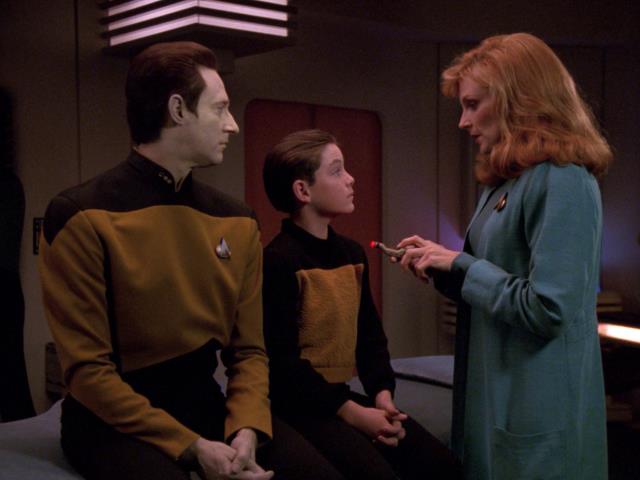 Synopsis
A boy rescued from the research vessel S.S. Vico emulates Data to escape the trauma of losing his parents, while the Enterprise becomes caught in the same gravitational wavefronts which destroyed the Vico.
Guest Cast
Joshua Harris (Timothy)
Harry Venton (Transporter Chief)
Sheila Franklin (Ensign Felton)
Stephen Einspahr (the Teacher)
Notes
The Black Cluster is an area containing the remains of hundreds of protostars.

The S.S. Vico NAR-18834 is an Oberth-class non-Starfleet Federation research vessel. The Black Cluster's gravitational wavefronts are amplified by the ship's shields which destroyed the ship. Timothy accidentally hit a computer panel and thought that he was responsible for destroying the ship.

Geordi was caught in a fire when he was 5 years old, before he got his VISOR.
---