Star Trek: The Next Generation
---
"A Matter of Time"
| | |
| --- | --- |
| Episode Number | 109 (5.09) |
| Production Number | 209 |
| Season | 5 |
| Stardate | 45349.1 |
| Original Airdate | 11-Nov-1991 |
| Teleplay | Rick Berman |
| Director | Paul Lynch |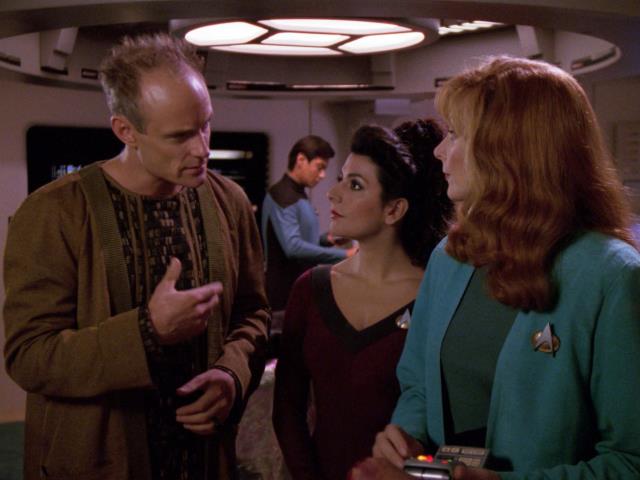 Synopsis
A 26th century time-traveller appears, claiming to be a historian from the future and is taken aboard. Picard wants him to reveal the outcome of their risky attempt to save the planet Penthara IV, which has been hit by a massive asteroid.
Guest Cast
Matt Frewer (Prof. Berlingoff Rasmussen)
Stephan Gierasch (Dr. Hal Mosely)
Sheila Franklin (Ensign Felton)
Shar Garner (Pentharan Scientist)
Notes
Rasmussen is actually a 22nd century "inventor" who stole a time machine from a real historian and brings back technology from the future to "invent" it in his present.

Rasmussen is taken into custody and the time machine leaves without him.

Though unnamed in this episode, Ensign Felton shares the conn with Ensign Ro for the remainder of the season.
---