Star Trek: The Next Generation
---
"Final Mission"
| | |
| --- | --- |
| Episode Number | 83 (4.09) |
| Production Number | 183 |
| Season | 4 |
| Stardate | 44307.3 |
| Original Airdate | 19-Nov-1990 |
| Story | Kacey Arnold-Ince |
| Teleplay | Kacey Arnold-Ince and Jeri Taylor |
| Director | Corey Allen |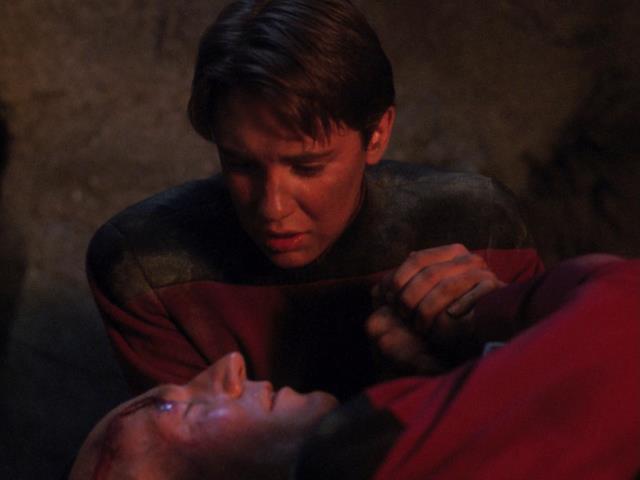 Synopsis
Wesley joins Captain Picard on a final mission after learning he will finally be going to Starfleet Academy. En route to mediate a miners' dispute, the shuttlecraft crashes on a desert moon. Meanwhile, the Enterprise tows a radioactive garbage scow.
Guest Cast
Nick Tate (Captain Dirgo)
Kim Hamilton (Chairman Songi)
Mary Kohnert (Ensign Tess Allenby)
Notes
With this episode, Wil Wheaton officially leaves the regular cast. Like Denise Crosby, he asked to be let go to pursue a film career. Wil Wheaton's name will be dropped from the opening credits after this episode.

In this episode, Wesley Crusher does not save the Enterprise, only Captain Picard.

Wesley Crusher will return as a guest star to once again save the Enterprise in Season 5's "The Game".
---