Star Trek: The Next Generation
---
"Heart of Glory"
| | |
| --- | --- |
| Episode Number | 20 (1.20) |
| Production Number | 120 |
| Season | 1 |
| Stardate | 41503.7 |
| Original Airdate | 21-Mar-1988 |
| Teleplay | Maurice Hurley, Herbert Wright & D.C. Fontana |
| Director | Rob Bowman |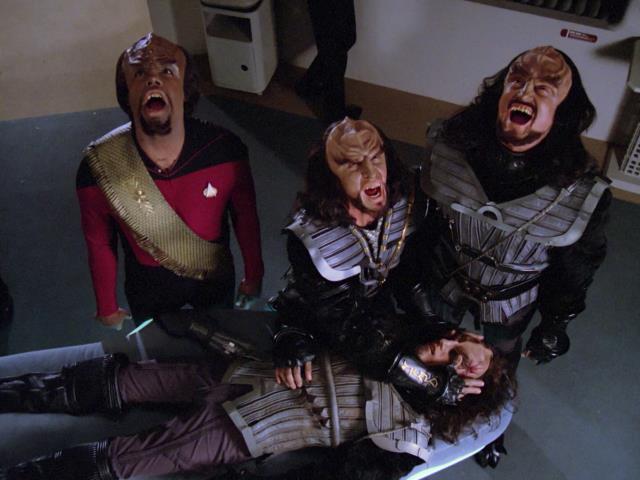 Synopsis
Starfleet sends the Enterprise to investigate reports of a battle in the Neutral Zone. After the crew rescues two Klingon fugitives on a stranded Talarian vessel, their plot to take over the Enterprise puts Worf's loyalties to the test.
Guest Cast
Vaughn Armstrong (Captain Korris)
Charles H. Hyman (Lieutenant Konmel)
David Froman (Captain K'Nera)
Robert Bauer (Kunivas)
Brad Zerbst (Nurse)
Dennis Madalone (Ramos)
Notes
This is the Next Generation's first "Klingon Episode."

Troi and Wesley do not appear in this episode. (This is the 5th time this season for Troi.)

The Enterprise investigates the aftermath of a battle in the Neutral Zone. The debris is possibly Romulan, "a name we haven't heard for a while" according to Picard. In Episode #15 "Angel One", the Enterprise headed to the Neutral Zone to defend an outpost against seven Romulan warbirds.

(The debris is actually Klingon — the fugitives destroyed a ship sent to intercept them.)

Geordi rigs his VISOR to transmit visuals to the Enterprise.
---