Star Trek: The Next Generation
---
"Déjà Q"
| | |
| --- | --- |
| Episode Number | 61 (3.13) |
| Production Number | 161 |
| Season | 3 |
| Stardate | 43539.1 |
| Original Airdate | 05-Feb-1990 |
| Teleplay | Richard Danus |
| Director | Les Landau |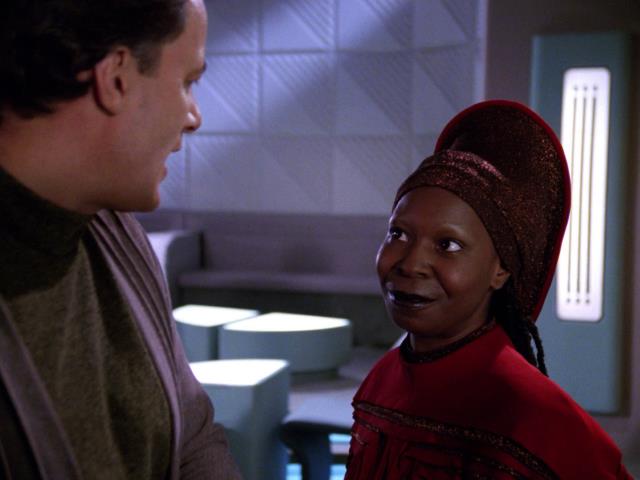 Synopsis
Q returns as a mortal without his powers, pursued by an alien force wishing to kill him and attacking the Enterprise in order to reach him. Meanwhile, the Enterprise tries to keep Bre'el IV's moon from crashing into the planet.
Guest Cast
John De Lancie ("Q")
Whoopi Goldberg (Guinan)
Corbin Bernsen ("Q2")
Richard Cansino (Dr. Garin)
Betty Muramoto (Bre'el Scientist)
Notes
This is the first appearance of another member of the Q Continuum, who is also named "Q".

Q's departing gift to Data for saving his life: a laugh.
---