Star Trek: The Next Generation
---
"The Defector"
| | |
| --- | --- |
| Episode Number | 58 (3.10) |
| Production Number | 158 |
| Season | 3 |
| Stardate | 43462.5 |
| Original Airdate | 01-Jan-1990 |
| Teleplay | Ronald D. Moore |
| Director | Robert Scheerer |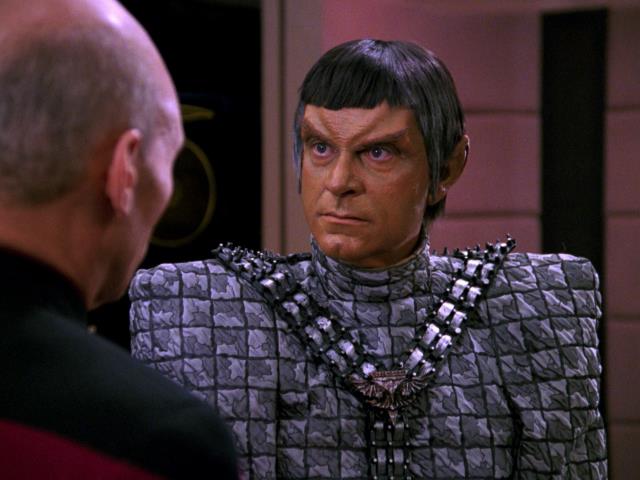 Synopsis
Sub-Lieutenant Setal, a Romulan defector tries to lead the Enterprise to Nelvana III in the Neutral Zone to prevent a war. Picard is skeptical, but Setal finally admits that he is Romulan Admiral Jarok and claims the Romulans have created a secret base on Nelvana III and are preparing an invasion.
Guest Cast
James Sloyan (Sub-Lieutenant Setal/Admiral Alidar Jarok)
Andreas Katsulas (Commander Tomalok)
Notes
James Sloyan also plays Dr. Mora Pol, a recurring character on Deep Space Nine.

The Romulans have been feeding Jarok false information in order to expose him as a traitor.

Jarok commits suicide after he learns that the data was false.
---