Star Trek: The Next Generation
---
"The Ensigns of Command"
| | |
| --- | --- |
| Episode Number | 50 (3.02) |
| Production Number | 149 |
| Season | 3 |
| Stardate | 43133.4 |
| Original Airdate | 02-Oct-1989 |
| Teleplay | Melinda M. Snodgrass |
| Director | Cliff Bole |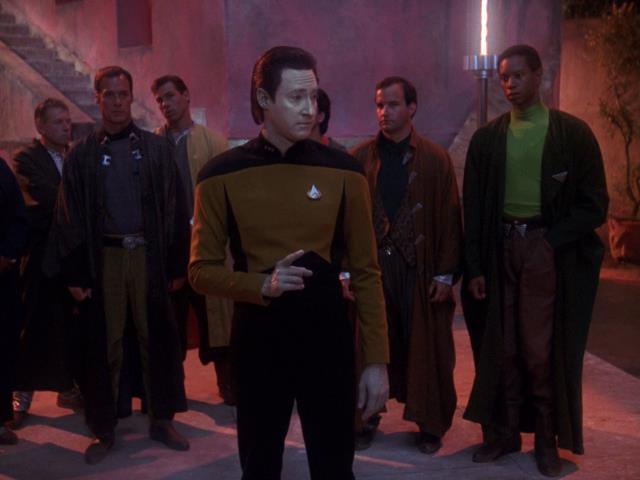 Synopsis
Data must convince reluctant colonists to evacuate the planet Tau Cygna V they settled on within four days, or the entire population will be annihilated by the Sheliak, who own that planet by Federation treaty.
Guest Cast
Eileen Seeley (Ard'rian McKenzie)
Mark L. Taylor (Haritath)
Richard Allen (Kentor)
Grainger Hines (Gosheven)
Colm Meaney (Chief O'Brien)
Mart McChesney (Sheliak)
Notes
This episode was produced before "Evolution" but aired afterwards, hence the out-of-order production numbers.

Mart McChesney also played Armus in "Skin of Evil".

Gosheven's voice was dubbed over by another actor and Grainger Hines asked that his name be removed from the credits.

The shuttle Onizuka is named for Ellison Onizuka, one of the Challenger astronauts who died in the 1986 accident.
---