Star Trek: The Next Generation
---
"Peak Performance"
| | |
| --- | --- |
| Episode Number | 47 (2.21) |
| Production Number | 147 |
| Season | 2 |
| Stardate | 42923.4 |
| Original Airdate | 10-Jul-1989 |
| Teleplay | David Kemper |
| Director | Robert Scheerer |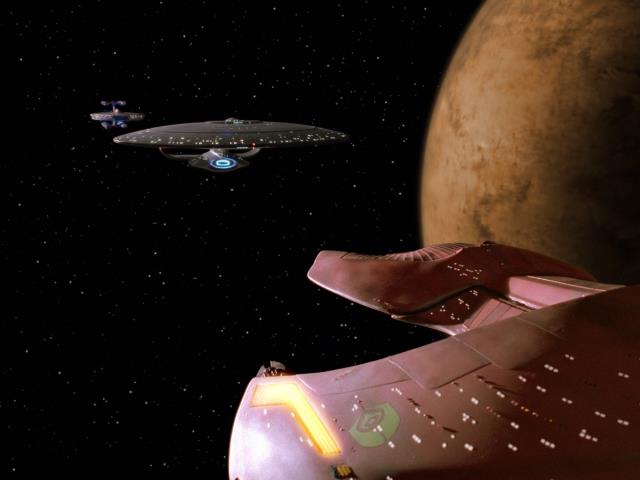 Synopsis
Commander Riker and Captain Picard are pitted against each other in a Starfleet war game administered by Zakdorn Sirna Kolrami, with Picard helming the Enterprise and Riker the U.S.S. Hathaway, an 80-year-old clunker. With their real weapons systems off-line, a Ferengi ship ambushes the disabled Enterprise and Hathaway.
Guest Cast
Diana Muldaur (Dr. Katherine Pulaski)
Roy Brocksmith (Sirna Kolrami)
Armin Shimerman (DaiMon Bractor)
David L. Lander (Ferengi First Officer)
Glenn Morshower (Ensign Burke)
Leslie Neale (Ensign Nagel)
Notes
Armin Shimerman, Quark from Deep Space Nine, plays DaiMon Bractor of the Ferengi vessel Kreechta.

Starfleet is administering the war games to prepare for a Borg invasion.

The U.S.S. Hathaway NCC-2593 is a Constellation-class starship (and a re-use of the U.S.S. Stargazer model and the Enterprise-D battle bridge using Enterprise-A style computer screens.)

Pulaski convinces Data to play Kolrami in a game of Stratagema.
---