Star Trek: The Next Generation
---
"The Emissary"
| | |
| --- | --- |
| Episode Number | 46 (2.20) |
| Production Number | 146 |
| Season | 2 |
| Stardate | 42901.3 |
| Original Airdate | 26-Jun-1989 |
| Story | Richard Mannin & Hans Beimler |
| Teleplay | Thomas Calder |
| Director | Cliff Bole |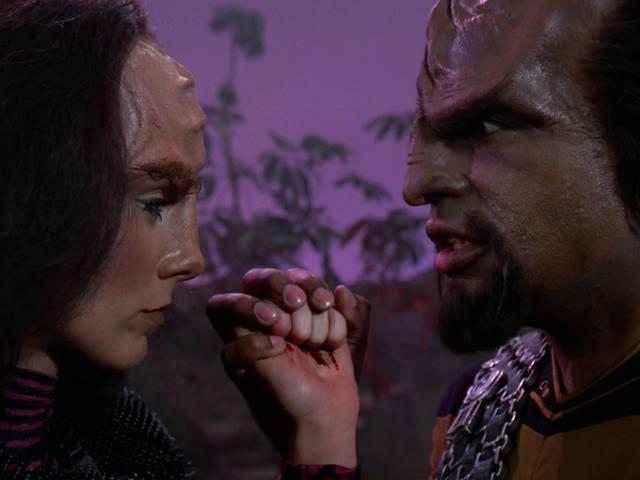 Synopsis
The emissary sent to intercept the Klingon vessel IKC T'Ong, whose crew is in cryogenic suspension, is Worf's past mate, K'Ehleyr. They must stop the Klingons from attacking in Federation space.
Guest Cast
Diana Muldaur (Dr. Katherine Pulaski)
Suzie Plakson (Ambassador K'Ehleyr)
Georgann Johnson (Admiral Gromek)
Lance Le Gault (Captain K'Temoc)
Colm Meaney (Chief Miles O'Brien)
Anne Elizabeth Ramsey (Ensign Clancy)
Dietrich Bader (Tactical Officer)
Notes
The K't'inga-class Klingon Bird of Prey was recycled from Star Trek: The Motion Picture.

Suzie Plakson also played Dr. Selar in "The Schizoid Man". K'Ehleyr returns in the 4th season episode "Reunion".

K'Ehleyr is only half-Klingon. Her father was Klingon, her mother human.
---