Star Trek: The Next Generation
---
"Shades of Gray"
| | |
| --- | --- |
| Episode Number | 48 (2.22) |
| Production Number | 148 |
| Season | 2 |
| Stardate | 42976.1 |
| Original Airdate | 17-Jul-1989 |
| Story | Maurice Hurley |
| Teleplay | Maurice Hurley, Richard Manning & Hans Beimler |
| Director | Rob Bowman |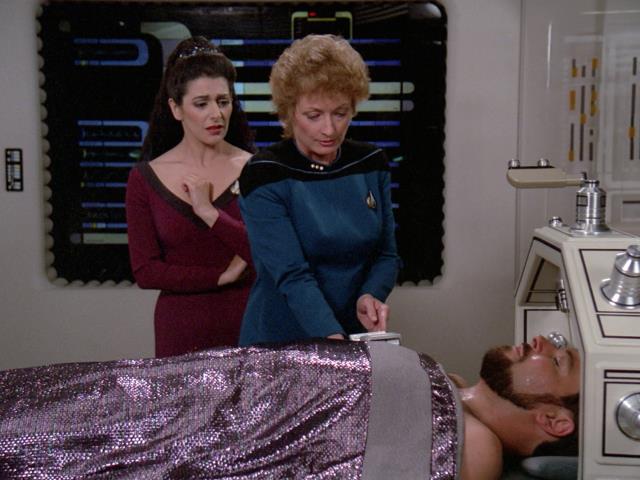 Synopsis
While performing a geological survey, Riker contracts a mysterious disease that attacks his central nervous system. Dr. Pulaski tries to save him with a potentially lethal course of treatment.
Guest Cast
Diana Muldaur (Dr. Katherine Pulaski)
Colm Meaney (Chief Miles O'Brien)
Notes
"Riker's Greatest Hits." Widely regarded as the worst Next Generation episode ever, where Dr. Pulaski probes Riker's brain to trigger memories which cause emotional responses which attack the disease (i.e., it's a flashback episode).

---