Star Trek: The Next Generation
---
"A Matter of Honor"
| | |
| --- | --- |
| Episode Number | 34 (2.08) |
| Production Number | 134 |
| Season | 2 |
| Stardate | 42506.5 |
| Original Airdate | 06-Feb-1989 |
| Teleplay | Wanda M. Haight, Gregory Amos & Burton Armus |
| Director | Rob Bowman |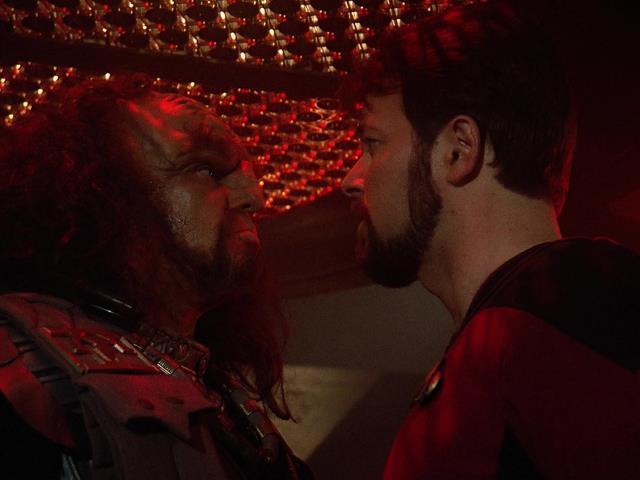 Synopsis
Riker serves on the Klingon ship IKC Pagh in an officer-exchange program. A parasite eats away at their hull and the Klingons think the Enterprise attacked them. Riker's loyalties are put to the test when the Klingons decide to destroy the Enterprise.
Guest Cast
Diana Muldaur (Dr. Katherine Pulaski)
Christopher Collins (Captain Kargan)
John Putch (Ensign Mendon)
Brian Thompson (Lt. Klag)
Colm Meaney (Chief O'Brien)
Notes
IKC = Imperial Klingon Cruiser.

John Putch also played a Benzite in the 1st season episode "Coming of Age". In that episode, Mordock competed for Starfleet Academy entrance. Lt. Chang congratulated him on being the first Benzite in Starfleet. If Mendon has the rank of Ensign, then he would have been at the Academy prior to Mordock.

This episode had a 12.2 rating, the highest rated TNG episode at this time.
---