Star Trek: The Next Generation
---
"The Measure of a Man"
| | |
| --- | --- |
| Episode Number | 35 (2.09) |
| Production Number | 135 |
| Season | 2 |
| Stardate | 42523.7 |
| Original Airdate | 13-Feb-1989 |
| Teleplay | Melinda M. Snodgrass |
| Director | Robert Scheerer |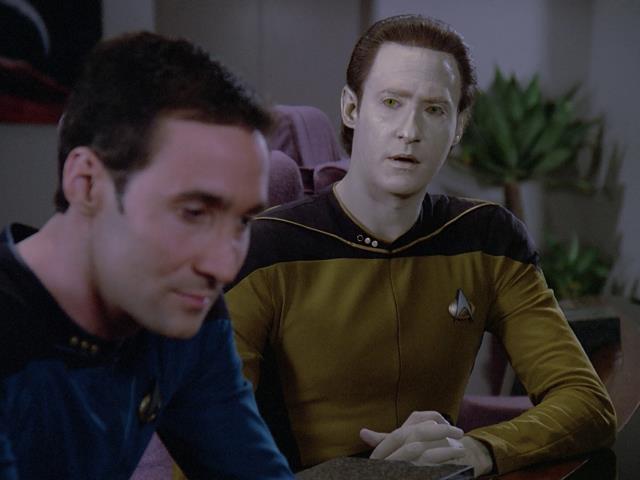 Synopsis
Commander Maddox wants Data disassembled to study his positronic brain. A starbase judge orders Data to comply, as he is Starfleet property. Picard defends Data's right to refuse, while Riker is obliged to argue for the study.
Guest Cast
Diana Muldaur (Dr. Katherine Pulaski)
Whoopi Goldberg (Guinan)
Brian Brophy (Commander Bruce Maddox)
Amanda McBroom (Captain Phillipa Louvois)
Clyde Kusatsu (Admiral Nakamura)
Notes
Judge Advocate General Phillipa Louvois ruled that Data was indeed a sentient being, and had all the rights and priviledges of a Federation citizen. She also was the prosecutor at Picard's U.S.S. Stargazer courtmartial.

Commander Maddox is the Chair of Robotics at the Daystrom Institute of Technology. He was also the only person to object to Data's entry into Starfleet Academy in 2341.
---