Star Trek: The Next Generation
---
"Elementary, Dear Data"
| | |
| --- | --- |
| Episode Number | 29 (2.03) |
| Production Number | 129 |
| Season | 2 |
| Stardate | 42286.3 |
| Original Airdate | 05-Dec-1988 |
| Teleplay | Brian Alan Lane |
| Director | Rob Bowman |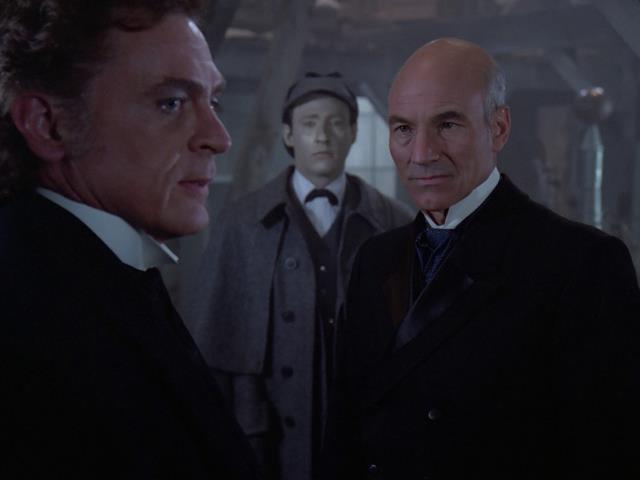 Synopsis
Data and Geordi play Sherlock Holmes and Dr. Watson on the holodeck. The computer creates a powerful foe, Dr. Moriarty, who kidnaps Dr. Pulaski and learns to control the ship.
Guest Cast
Diana Muldaur (Dr. Katherine Pulaski)
Daniel Davis (Dr. James Moriarty)
Alan Shearman (Inspector Lestrade)
Anne Elizabeth Ramsey (Ensign Clancy)
Biff Manard (Ruffian)
Diz White (Prostitute)
Richard Merson (Pie Man)
Notes
Professor Moriarty returns to the holodeck in sixth season's "Ship in a Bottle".

This is the only episode Data plays Sherlock Holmes, due to a lawsuit from Sir Arthur Conan Doyle's estate.
---