Star Trek: The Next Generation
---
"The Outrageous Okona"
| | |
| --- | --- |
| Episode Number | 30 (2.04) |
| Production Number | 130 |
| Season | 2 |
| Stardate | 42402.7 |
| Original Airdate | 12-Dec-1988 |
| Teleplay | Les Menchen, Lance Dickson & David Landsberg |
| Director | Robert Becker |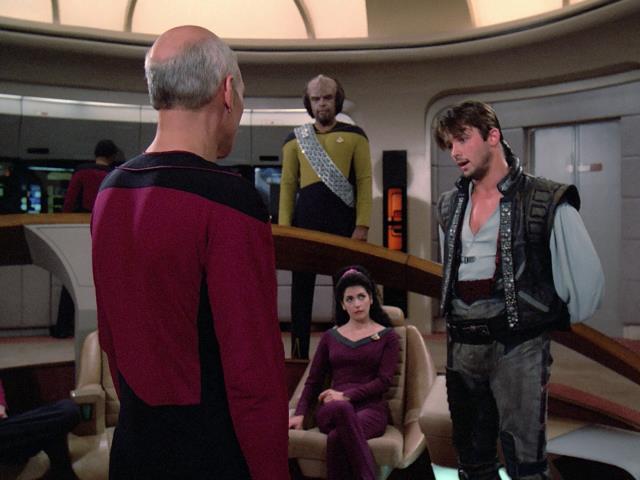 Synopsis
The charming captain of a cargo freighter is accused by the leaders of two neighboring planets of theft and philandering. Data tries to understand humor with the help of Guinan and a comic.
Guest Cast
Whoopi Goldberg (Guinan)
William O. Campbell (Captain Thaduin Okona)
Joe Piscopo (The Comic)
Douglas Rowe (Debin)
Rosalind Ingledew (Yanar)
Kieran Mulroney (Benzan)
Albert Stratton (Kushell)
Teri Hatcher (Lt. B.G. Robinson)
Notes
William O. Campbell was the runner-up for the role of Commander Riker. (He later starred as The Rocketeer.)

Teri Hatcher ("Lois and Clark") plays transporter technician Lt. Robinson.

"The Comic" was originally to be Jerry Lewis (!) until a scheduling conflict prevented him from appearing.

Pulaski does not appear in this episode.

---