Star Trek: The Next Generation
---
"The Big Goodbye"
| | |
| --- | --- |
| Episode Number | 12 (1.12) |
| Production Number | 113 |
| Season | 1 |
| Stardate | 41997.7 |
| Original Airdate | 11-Jan-1988 |
| Teleplay | Tracy Tormé |
| Director | Joseph L. Scanlan |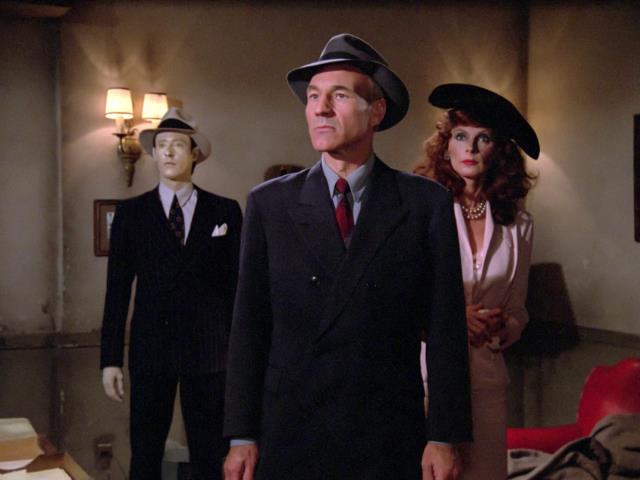 Synopsis
The Captain, Data, and Dr. Crusher are trapped in the holodeck in a 1941 San Francisco Dixon Hill program due to a computer malfunction.
Guest Cast
William Boyett (Lt. Dan Bell)
Lawrence Tierney (Cyrus Redblock)
Harvey Jason (Felix Leech)
Rhonda Aldrich (Madeline)
David Selburg (Lit-Historian Whalen)
Gary Armagnac (Lt. McNary)
Mike Genovese (Desk Sergeant)
Carolyn Allport (Jessica Bradley)
Notes
Troi does not appear in this episode.

This episode marks the birth of the "holodeck gone awry" plot mechanism.

The Dixon Hill set was actually built and contained within the Holodeck set.

---