Star Trek: The Next Generation
---
"Haven"
| | |
| --- | --- |
| Episode Number | 11 (1.11) |
| Production Number | 105 |
| Season | 1 |
| Stardate | 41294.5 |
| Original Airdate | 30-Nov-1987 |
| Teleplay | Tracy Tormé and Lan O'Kun |
| Director | Richard Compton |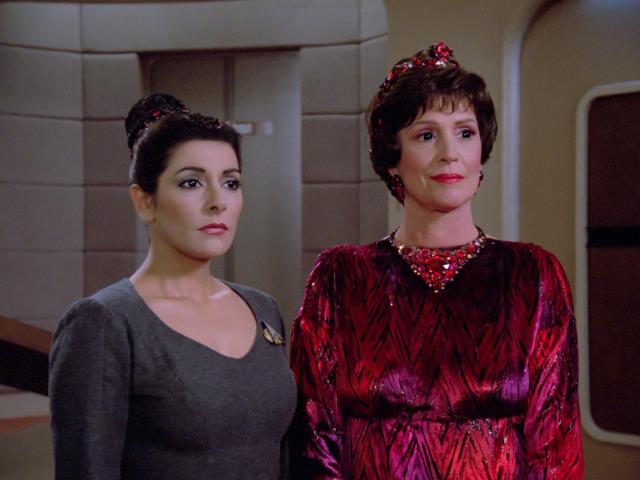 Synopsis
Counselor Troi faces a pre-arranged marriage to Wyatt Miller on planet Haven as a Tarellian ship carrying a deadly plague arrives.
Guest Cast
Majel Barrett (Lwaxana Troi)
Rob Knepper (Wyatt Miller)
Nan Martin (Victoria Miller)
Robert Ellenstein (Steven Miller)
Danitza Kingsley (Ariana)
Carel Struycken (Mr. Homn)
Anna Katarina (Valeda Innis)
Raye Birk (Wrenn)
Michael Rider (Transporter Chief)
Notes
Worf and Wesley do not appear in this episode.

Deanna's mother, Lwaxana Troi, makes her first appearance.

Episode writer Tracy Tormé is the son of singer Mel Tormé.

This is the only episode in which Deanna calls Riker "Bill" instead of "Will."

This episode was nominated for Emmy Award for Outstanding Achievement in Hairstyling.
---