Star Trek: The Next Generation
---
"Code of Honor"
| | |
| --- | --- |
| Episode Number | 4 (1.04) |
| Production Number | 104 |
| Season | 1 |
| Stardate | 41235.25 |
| Original Airdate | 12-Oct-1987 |
| Teleplay | Katharyn Powers and Michael Baron |
| Director | Russ Mayberry |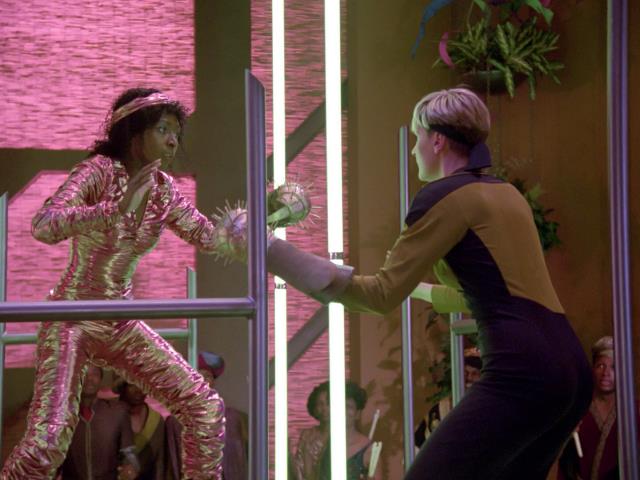 Synopsis
A plague on Styris IV sends the Enterprise to Ligon II, the only known source of a vaccine. Yar is kidnapped by alien leader Lutan and is challenged to fight to the death by his mate, Yareena.
Guest Cast
Jessie Lawrence Ferguson (Lutan)
Karole Selmon (Yareena)
James Louis Watkins (Hagon)
Michael Rider (Transporter Chief)
Notes
Worf does not appear in this episode.

This is the first episode where we see the Holodeck's yellow grid lines.

The producers and writers have since expressed embarassment over this episode's portrayal of people of color.
---