Star Trek: Picard
---
"Absolute Candor"
| | |
| --- | --- |
| Episode Number | 4 (1.04) |
| Production Number | 103 |
| Season | 1 |
| Stardate | |
| Original Airdate | 13-Feb-2020 |
| Teleplay | Michael Chabon |
| Director | Jonathan Frakes |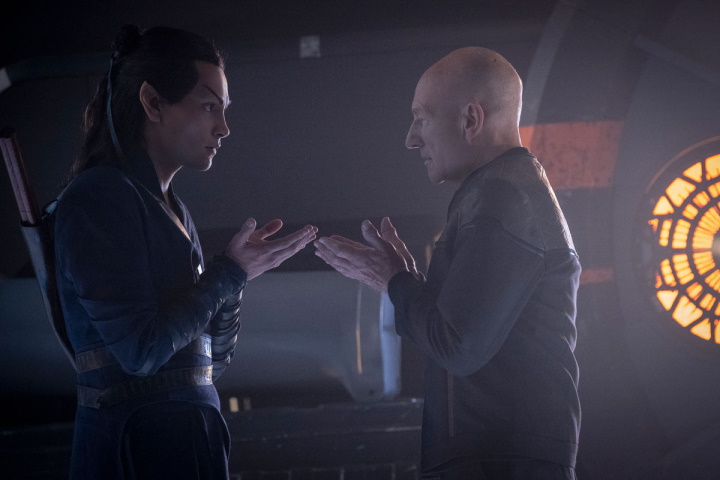 Synopsis
The crew's journey to Freecloud takes a detour when Picard orders a stop at the planet Vashti, where he and Raffi relocated Romulan refugees 14 years earlier. Upon arrival, Picard reunites with Elnor, a young Romulan he befriended during the relocation. Meanwhile, Narek continues his attempts to learn more about Soji while Narissa's impatience with his lack of progress grows.
Starring
Patrick Stewart (Jean-Luc Picard)
Alison Pill (Dr. Agnes Jurati)
Isa Briones (Dr. Soji Asha)
Evan Evagora (Elnor)
Michelle Hurd (Raffi Musiker)
Santiago Cabrera (Cristóbal Rios)
Harry Treadaway (Narek)
Special Guest Star
Jeri Ryan (Seven of Nine)
Guest Cast
Peyton List (Lt. Narissa Rizzo)
Amirah Vann (Zani)
Rebecca Wisocky (Ramdha)
Ian Nunney (Young Elnor)
Evan Parke (Tenqem Andrev)
Co-Starring
Erik Alvarez (Bidran)
Jamie Barcelon (Waiter)
Kay Bess (La Sirena Computer)
Donny Boaz (Skantal)
David Chattam (Kibitzer #2)
Willow Greer (Refugee #1)
Djamel Hamdad (Refugee #2)
Ken Lyle (Fruit Vendor)
Linda Nile (Kibitzer #3)
Ciro Suarez (Kibitzer #1)
Heather Wynters (Shai)
Notes
Jeri Ryan (Seven of Nine) is credited as Special Guest Star after the regular cast members. This is her first appearance on the show, and the first outside of Star Trek: Voyager.

This episode introduces the final regular cast member, Evan Evagora (Elnor).

Elnor, an orphan, was raised by the local chapter of the Qowat Milat, an all-female religious order of "Romulan warrior nuns" who are sworn enemies of the Tal Shiar, the Romulan intelligence agency.

The title refers to a Qowat Milat's primary philosophy of absolute candor, in opposition to the typical Romulan philosophy of secrecy.

Vashti was originally a human colony at the edge of the old Romulan Neutral Zone in the Qiris sector in the Beta Quadrant. It served as the Romulan Relocation Hub during the evacuation. Planet Vashti orbits a binary star system.

Two more La Sirena holograms make an appearance, a Hospitality hologram and a Tactical hologram (both played by Santiago Cabrera).
---