Star Trek: Enterprise
---
"Terra Prime"
| | |
| --- | --- |
| Episode Number | 97 (4.21) |
| Production Number | 97 |
| Season | 4 |
| Stardate | |
| Original Airdate | 13-May-2005 |
| Story | Judith Reeves-Stevens & Garfield Reeves-Stevens and André Bormanis |
| Teleplay | Judith Reeves-Stevens & Garfield Reeves-Stevens and Manny Coto |
| Director | Marvin V. Rush |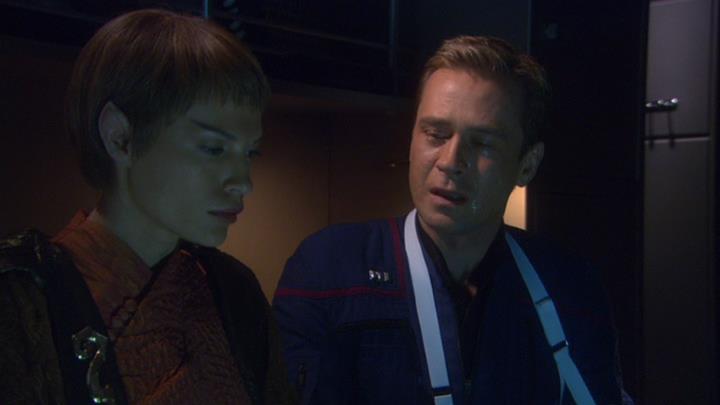 Synopsis
In the first steps towards the foundation of the Federation, Captain Archer and the crew must stop Paxton, a well-armed, radical human isolationist leader, who is threatening to destroy Starfleet Command unless all aliens leave Earth immediately.
Guest Cast
Peter Weller (John Frederick Paxton)
Harry Groener (Minister Nathan Samuels)
Gary Graham (Ambassador Soval)
Eric Pierpoint (Harris)
Adam Clark (Josiah)
Peter Mensah (Daniel Greaves)
Johanna Watts (Gannet Brooks)
Derek Magyar (Commander Kelby)
Joel Swetow (Thoris)
Josh Holt (Ensign Masaro)
Amy Rohren (Tactical Officer)
Notes
Part 2 of 2. May 13, 2005 - 8:00 PM, followed by Series Finale at 9:00 PM.

Mayweather finds that his former girlfriend Gannet Brooks works for Starfleet Intelligence.

T'Pol and Tucker's baby girl, named Elizabeth after Tucker's sister, was created from DNA stolen from Enterprise by Ensign Masaro. The baby died shortly after due to faulty cloning by Dr. Mercer.
---