Star Trek: Enterprise
---
"Babel One"
| | |
| --- | --- |
| Episode Number | 88 (4.12) |
| Production Number | 88 |
| Season | 4 |
| Stardate | Nov 12, 2154 |
| Original Airdate | 28-Jan-2005 |
| Teleplay | Mike Sussman & André Bormanis |
| Director | David Straiton |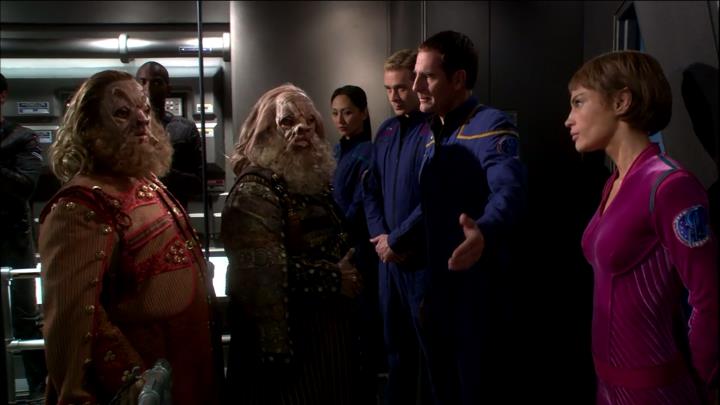 Synopsis
Ordered to transport a delegation of argumentative Tellarites to a peace conference with the blue-skinned Andorians, Archer and the crew find themselves drawn into a confusing, dangerous situation when a secret Romulan vessel begins attacking ships on all sides, including Enterprise.
Guest Cast
Jeffrey Combs (Commander Shran)
Lee Arenberg (Ambassador Gral)
Brian Thompson (Admiral Valdore)
J. Michael Flynn (Nijil)
Molly Brink (Lieutenant Talas)
Kevin Brief (Naarg)
Jermaine Soto (MACO Crewman)
Notes
Part 1 of 3.

T'Pol receives a communication from Koss: their marriage is officially disolved.
---