Star Trek: Enterprise
---
"Hatchery"
| | |
| --- | --- |
| Episode Number | 69 (3.17) |
| Production Number | 69 |
| Season | 3 |
| Stardate | Jan. 8, 2154 |
| Original Airdate | 25-Feb-2004 |
| Story | André Bormanis & Mike Sussman |
| Teleplay | André Bormanis |
| Director | Michael Grossman |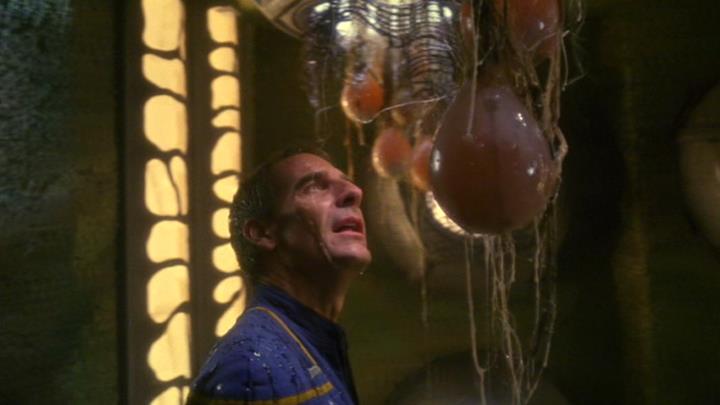 Synopsis
En route to Azati Prime, Enterprise discovers a damaged Xindi-Insectoid vessel with no bio-signs onboard. They discover an eerie hatchery containing Xindi eggs, some of which are still viable. Archer orders Trip to assign a team to repair the hatchery and vows to protect the hatchlings no matter the cost.
Guest Cast
Steven Culp (Major Hayes)
Daniel Dae Kim (Corporal Chang)
Sean McGowan (Corporal Hawkins)
Paul Eliopoulos (Crewman #1)
Porthos
Notes
While in the hatchery, an egg sprays Archer. This imprints the eggs on him. Phlox is able to reverse the effect.

Phlox learns the Insectoids are genderless and reproduce asexually. He estimates they have a life span of approximately 12 years.

The crew retrieves a shuttle from the Insectoid ship.
---