Star Trek: Enterprise
---
"Twilight"
| | |
| --- | --- |
| Episode Number | 60 (3.08) |
| Production Number | 60 |
| Season | 3 |
| Stardate | |
| Original Airdate | 05-Nov-2003 |
| Teleplay | Mike Sussman |
| Director | Robert Duncan McNeill |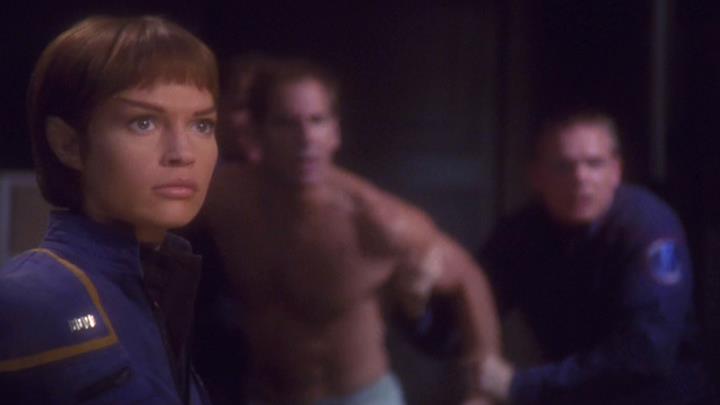 Synopsis
A spatial distortion leaves Archer unable to form any new long-term memories. Years in the future, he wakes up one morning and is stunned to learn the outcome of the human-Xindi conflict.
Guest Cast
Gary Graham (Ambassador Soval)
Brett Rickaby (Yedrin Koss)
Richard Anthony Crenna (Security Guard)
Notes
This episode was voted the most popular episode by fans during the push to the Enterprise series finale in 2005.

Archer was infected by subspace parasites, which can't be removed except by a subspace implosion. Phlox discovers that destroying the parasites in the present time also destroys them in the past. Once the parasites are destroyed after Archer causes a warp core breach, the timeline resets to normal.

In the alternate timeline, Starfleet gave T'Pol a field promotion to Captain. After destroying Earth, the Xindi hunted down the remaining human colonies. Less than 6000 humans remained. They settled on Ceti Alpha V. (Unfortunately, Ceti Alpha V will be destroyed later as seen in Star Trek II: The Wrath of Khan). After T'Pol resigns to take care of Archer on the surface, Tucker is promoted to Captain.
---