Star Trek: Enterprise
---
"Detained"
| | |
| --- | --- |
| Episode Number | 21 (1.21) |
| Production Number | 21 |
| Season | 1 |
| Stardate | |
| Original Airdate | 24-Apr-2002 |
| Story | Rick Berman & Brannon Braga |
| Teleplay | Mike Sussman & Phyllis Strong |
| Director | David Livingston |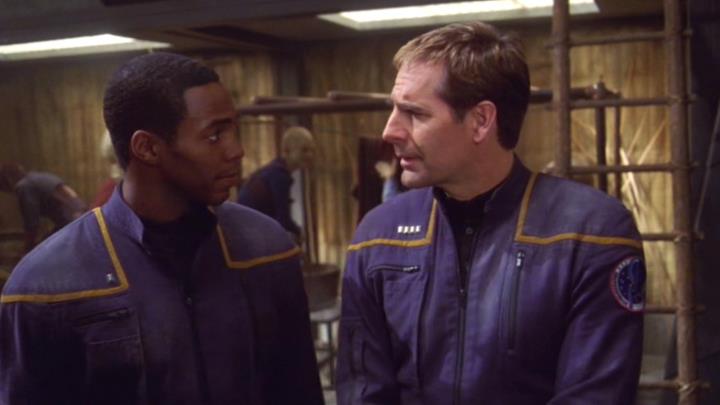 Synopsis
Archer and Mayweather are detained by the Tandarans in a Suliban internment camp. Learning of the Suliban's persecution by the Tandarans, Archer enlists the aid of Enterprise and his crew.
Guest Cast
Dean Stockwell (Colonel Grat)
Christopher Shea (Sajen)
Jessica D. Stone (Narra)
Dennis Christopher (Danik)
David Kagen (Major Klev)
Notes
Dean Stockwell previously starred with Scott Bakula on "Quantum Leap".

Archer and Mayweather learn that the Suliban in the camp are not members of the Suliban Cabal organization, but are innocent families. When the Enterprise crew rescues them, the Suliban escape.
---