Star Trek: Enterprise
---
"Unexpected"
| | |
| --- | --- |
| Episode Number | 5 (1.05) |
| Production Number | 5 |
| Season | 1 |
| Stardate | |
| Original Airdate | 17-Oct-2001 |
| Teleplay | Rick Berman & Brannon Braga |
| Director | Mike Vejar |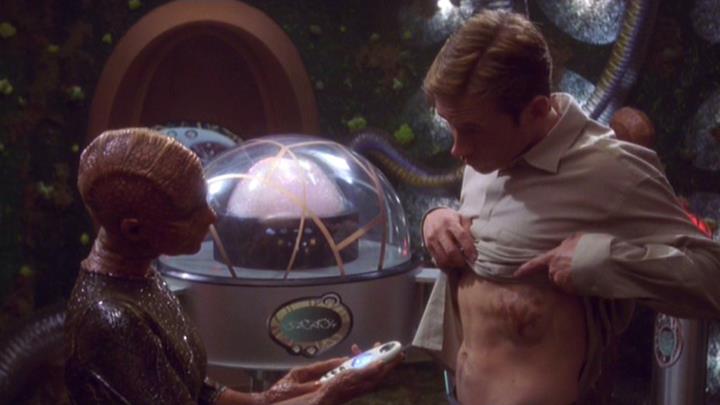 Synopsis
After discovering the presence of a damaged alien vessel, Archer dispatches Tucker to its aid, but the engineer's encounter with a Xyrillian female has an unexpected side effect.
Guest Cast
Julianne Christie (Ah'len)
Randy Oglesby (Captain Trena'l)
Christopher Darga (Captain Vorok)
Regi Davis (Klingon First Officer)
TL Kolman (Alien Man)
John Cragen (Crewman)
Drew Howerton (Steward)
Mike Baldridge (Crewman Dillard)
Porthos
Notes
Trip unintentionally becomes pregnant by Ah'len while playing a telepathic game. He also grows a nipple on his left forearm. The embryo is implanted into another host.

The episode opens with Archer taking a shower; NX-01 has standard shower stalls that use water.

The Xyrillians have holographic technology that can create landscapes, similar to the Enterprise-D holodeck before the upgrades (e.g., "Encounter at Farpoint").
---