Star Trek: Enterprise
---
"Strange New World"
| | |
| --- | --- |
| Episode Number | 4 (1.04) |
| Production Number | 4 |
| Season | 1 |
| Stardate | |
| Original Airdate | 10-Oct-2001 |
| Story | Rick Berman & Brannon Braga |
| Teleplay | Mike Sussman & Phyllis Strong |
| Director | David Livingston |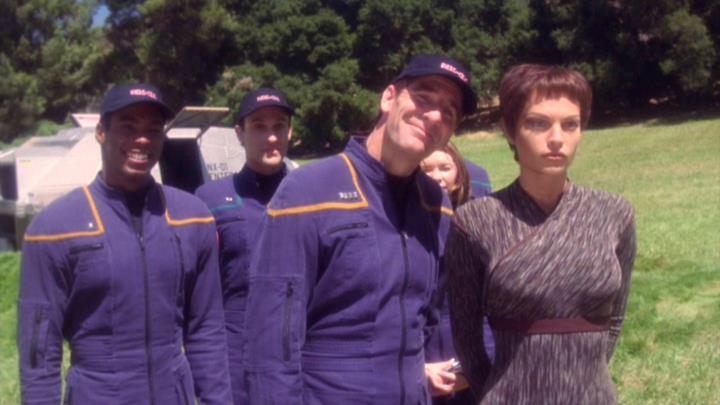 Synopsis
Crew members go on a survey mission to a seemingly uninhabited Earth-like planet where a mysterious alien presence sends them into a state of paranoid overdrive.
Guest Cast
Kellie Waymire (Crewman Elizabeth Cutler)
Henri Lubatti (Crewman Ethan Novakovich)
Rey Gallegos (Crewman)
Porthos
Notes
Enterprise has 82 crew members according to Trip.

This is the first uncharted planet visited by Enterprise. It is also the first use of the Vulcan term Minshara-class planet, one which is suitable for humanoid life, and a pre-cursor to the future "M-class" planet.

This is the first appearance of Crewman Cutler, the ship's entomologist.

When Novokavich is transported to the ship, swirling debris is beamed up as well, fused into his skin.

The crew is affected by tropolisine pollen; the psychotropic compound is known for its hallucinogenic effects.

T'Pol uses the Vulcan nerve pinch on Mayweather to give him the inaprovaline injection.
---