Star Trek: Deep Space Nine
---
"Shadowplay"
| | |
| --- | --- |
| Episode Number | 36 (2.16) |
| Production Number | 436 |
| Season | 2 |
| Stardate | 47603.3 |
| Original Airdate | 19-Feb-1994 |
| Teleplay | Robert Hewitt Wolfe |
| Director | Robert Sheerer |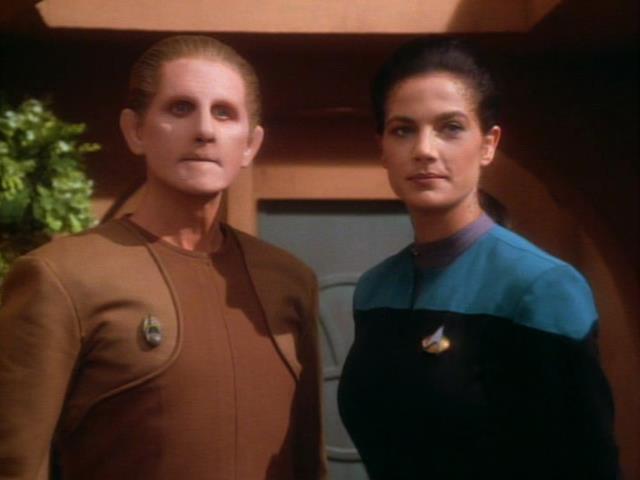 Synopsis
Odo and Dax try to solve the mystery of an alien planet whose inhabitants are disappearing without explanation. Meanwhile, Kira is visited by Vedek Bareil.
Guest Cast
Kenneth Mars (Constible Colyus)
Kenneth Tobey (Rurigan)
Noley Thornton (Taya)
Philip Anglim (Vedek Bareil)
Notes
Kira and Bariel share their first kiss.

The village and all the inhabitants are holograms created by Rurigan. He explains that when the Dominion took over Yadera Prime, he relocated to this planet and used a holo-generator to recreate the world he had lost.

Noley Thornton also played Clara Sutter in the Next Generation episode "Imaginary Friend".

Sisko has O'Brien help Jake to learn Starfleet engineering. Jake finally tells his father that he doesn't want to join Starfleet.
---