Star Trek: Deep Space Nine
---
"Melora"
| | |
| --- | --- |
| Episode Number | 26 (2.06) |
| Production Number | 426 |
| Season | 2 |
| Stardate | 47229.1 |
| Original Airdate | 30-Oct-1993 |
| Story | Evan Carlos Somers |
| Teleplay | Evan Carlos Somers and Steven Baum and Michael Piller & James Crocker |
| Director | Winrich Kolbe |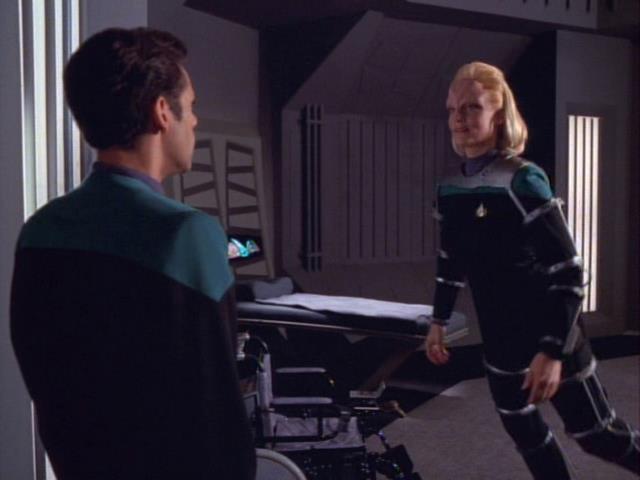 Synopsis
After becoming involved with Ensign Melora Pazlar, a Elaysian woman whose species is unable to walk in "normal" gravity, Bashir develops a technology that could free her of her wheelchair forever. Meanwhile, a former business partner of Quark arrives on the station and announces he's going to kill him.
Guest Cast
Daphne Ashbrooke (Ensign Melora Pazlar)
Peter Crombie (Fallit Kot)
Don Stark (Ashrock)
Ron Taylor (the Klingon Chef)
Notes
Fallit Kot was imprisoned in a Romulan Labor camp for hijaaking a shipment of Romulan Ale. He was hijaaking the shipment for Quark, who ended up getting off.

Ferengi Rule of Acquisition #16: "A deal is a deal."
---