Star Trek: Deep Space Nine
---
"Cardassians"
| | |
| --- | --- |
| Episode Number | 25 (2.05) |
| Production Number | 425 |
| Season | 2 |
| Stardate | 47177.2 |
| Original Airdate | 23-Oct-1993 |
| Story | Gene Wolande & John Wright |
| Teleplay | James Crocker |
| Director | Cliff Bole |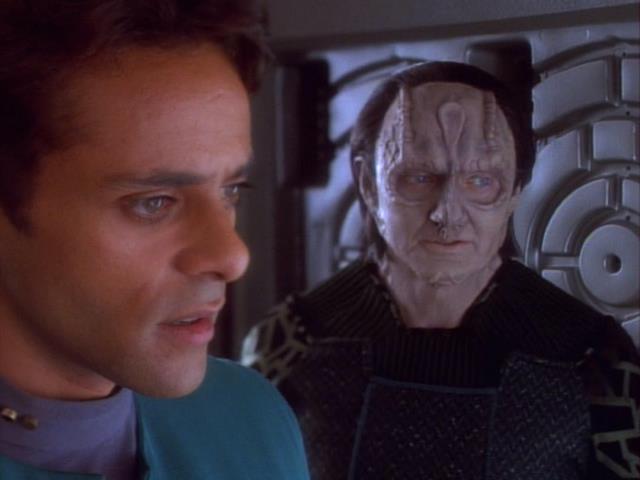 Synopsis
A young Cardassian named Rugal, orphaned in the war and raised by Bajorans, causes turmoil on the station when his people attempt to reclaim him. Bashir and Garak uncover a plot by Gul Dukat against the boy's Cardassian father, Pa'Dar.
Guest Cast
Andrew Robinson (Garak)
Marc Alaimo (Gul Dukat)
Vidal Peterson (Rugal)
Robert Mandan (Kotan Pa'Dar)
Terrence Evans (Proka Migdal)
Dion Anderson (Zolan)
Sharon Conley (Jomat Luson)
Karen Hensel (Deela)
Jillian Ziesmer (Asha)
Notes
"Terok Nor" was the Cardassian name for the station, before the Bajorans and Federation renamed it "Deep Space 9". Gul Dukat was the commander of Terok Nor during the Cardassian occupation of Bajor. The station processed uridium ore.

Dukat deliberately left Rugal behind in hopes of someday using this to humiliate his adversary, Pa'Dar.
---