Star Trek
---
"The Menagerie, Part I"
| | |
| --- | --- |
| Episode Number | 11 (1.11) |
| Production Number | 16 |
| Season | 1 |
| Stardate | 3012.4 |
| Original Airdate | 17-Nov-1966 |
| Teleplay | Gene Roddenberry |
| Director | Marc Daniels |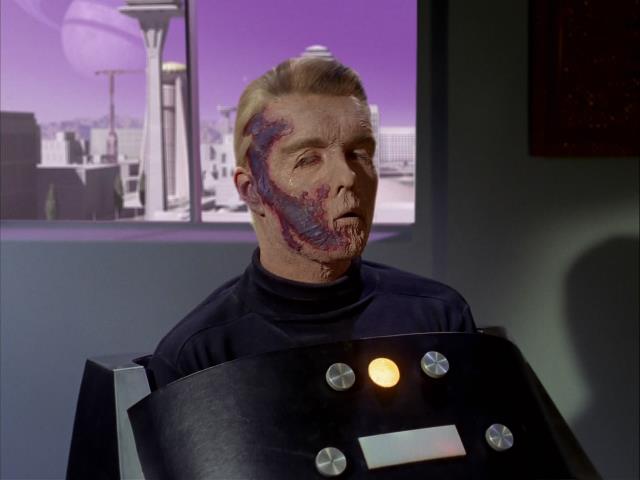 Synopsis
The U.S.S. Enterprise and her crew are diverted by a signal from Christopher Pike, the former captain of the U.S.S. Enterprise, to Starbase 11. When they arrive, they find Captain Christopher Pike severely crippled and paralyzed by radiation burns. Unbeknownst to Captain Kirk, Spock beams himself and Pike to the ship and locks the ship's controls on a course set for Talos IV — a planet that Starfleet regulations has deemed absolutely off-limits to all vessels. Forced by the extreme actions of the Vulcan first officer, Kirk and Commodore Mendez convene a court-martial against Spock.
Guest Cast
Jeffrey Hunter (Capt. Christopher Pike)*
Susan Oliver (Vina)*
Malachi Throne (Commodore Jose I. Mendez)
M. Leigh Hudec (Number One)*
Peter Duryea (Lt. Jose Tyler)*
John Hoyt (Dr. Philip Boyce)*
Adam Roarke (C.P.O. Garrison)*
DeForest Kelley (Dr. Leonard H. McCoy)
James Doohan (Lt. Cmdr. Montgomery Scott)
Nichelle Nichols (Lt. Uhura)
Sean Kenney (Disabled Christopher Pike)
Hagan Beggs (Lieutenant Hansen)
Julie Parrish (Miss Piper)
Notes
*These characters appeared in footage from the original series pilot "The Cage" as the visual evidence of Pike's early mission.

During this episode, and continued in Part 2, the court watches the entire episode of "The Cage".

The events depicted in "The Cage" occurred 13 years ago.

Majel Barrett is credited as M. Leigh Hudec.

Starfleet Command's General Order number 7 prohibits contact with Talos IV, under penalty of death.
---