Star Trek
---
"The Cage"
| | |
| --- | --- |
| Episode Number | 0 (1.00) |
| Production Number | 1 |
| Season | 1 |
| Stardate | |
| Original Airdate | |
| Teleplay | Gene Roddenberry |
| Director | Robert Butler |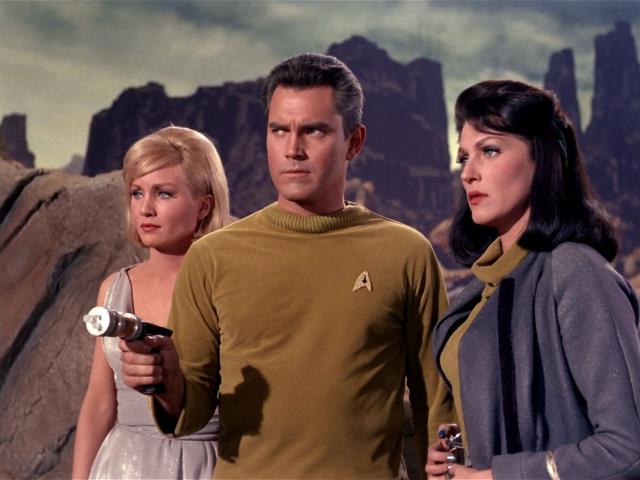 Synopsis
Captain Pike and his crew are lured to Talos IV by a race capable of creating powerful illusions.
Starring
Jeffrey Hunter (Captain Christopher Pike)
Guest Cast
Susan Oliver (Vina)
Leonard Nimoy (Mister Spock)
Majel Barrett (Number One)
John Hoyt (Doctor Phillip Boyce)
Peter Duryea (Lt. Jose Tyler)
Laurel Goodwin (Yeoman Colt)
Meg Wylie (The Keeper)
Notes
This unaired pilot episode was rejected by NBC for being "too cerebral". This led to the creation of a second pilot, "Where No Man Has Gone Before".

At the time of production, this original pilot was also known as "The Menagerie." However, as the series proper has a two-part story of the same title, this episode is usually referred to as "The Cage." The two-part episide "The Menagerie" features scenes from this pilot episode.

Number One's name is never given, but her rank is Lieutenant.

It seems odd that Number One is Pike's first officer when Captain Pike doesn't like females on the bridge. He mentions more than once that Yeoman Colt is to leave the bridge unless she's there for a report because she is a woman.
---