Star Trek: The Next Generation
---
"Emergence"
| | |
| --- | --- |
| Episode Number | 175 (7.23) |
| Production Number | 275 |
| Season | 7 |
| Stardate | 47869.2 |
| Original Airdate | 22-May-1994 |
| Story | Brannon Braga |
| Teleplay | Joe Menosky |
| Director | Cliff Bole |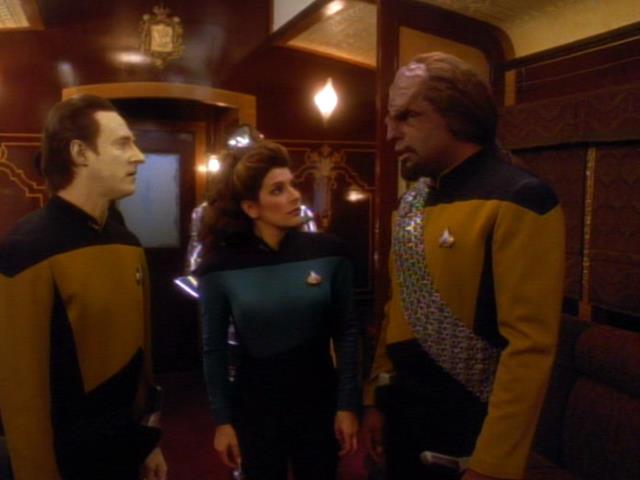 Synopsis
Mysterious malfunctions in the Enterprise computer systems lead the crew to the holodeck, where passengers on the Orient Express hold the only clues. Meanwhile, strange devices are appearing on board that seem to be part of an emerging life form.
Guest Cast
David Huddleston (The Conductor)
Vinny Argiro (The Hitman)
Thomas Kopache (The Engineer)
Arlee Reed (Hayseed)
Notes
The train is headed for Vertiform City. The emerging lifeform needs vertion particles to replicate itself. When the new lifeform finally forms, it disappears into space, bringing the Enterprise back to normal.

In the opening act, Picard helps Data rehearse Shakespeare's "The Tempest" on the holodeck.
---