Star Trek: The Next Generation
---
"Liaisons"
| | |
| --- | --- |
| Episode Number | 154 (7.02) |
| Production Number | 254 |
| Season | 7 |
| Stardate | |
| Original Airdate | 27-Sep-1993 |
| Story | Roger Eschbacher & Jaq Greenspon |
| Teleplay | Jeanne Carrigan Fauci & Lisa Rich |
| Director | Cliff Bole |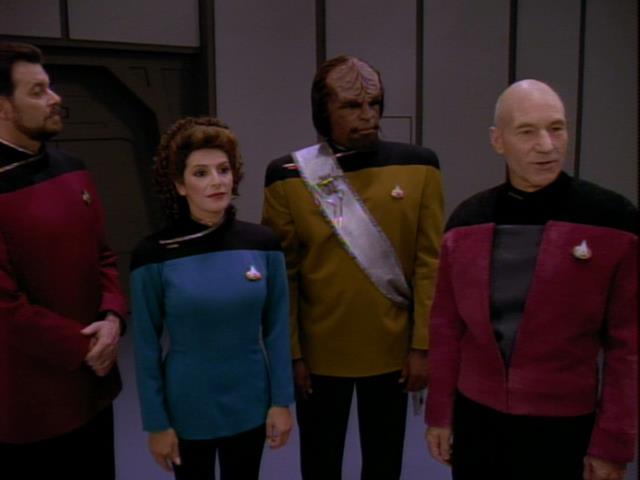 Synopsis
The Enterprise hosts two Iyaaran ambassadors as part of a cultural exchange: one is assigned to Troi and the other seeks to provoke an undiplomatic Worf. Meanwhile, Picard crashes on a barren planet en route to Iyar and is rescued by a woman who falls desperately in love with him.
Guest Cast
Barbara Williams (Anna)
Eric Pierpoint (Ambassador Voval)
Paul Eiding (Ambassador Loquel)
Michael Harris (Ambassador Byleth)
Rickey D'Shon Collins (Eric)
Notes
Loquel was using Worf to study antagonism (with some amusing results). Byleth was using Troi to study pleasure (no, not that kind!). Voval was using Picard to study love.

Troi's favorite desert is Ktarian chocoloate puff, made of 17 varieties of chocolate.
---