Star Trek: The Next Generation
---
"I, Borg"
| | |
| --- | --- |
| Episode Number | 123 (5.23) |
| Production Number | 223 |
| Season | 5 |
| Stardate | 45854.2 |
| Original Airdate | 25-May-1992 |
| Teleplay | René Echevarria |
| Director | Robert Lederman |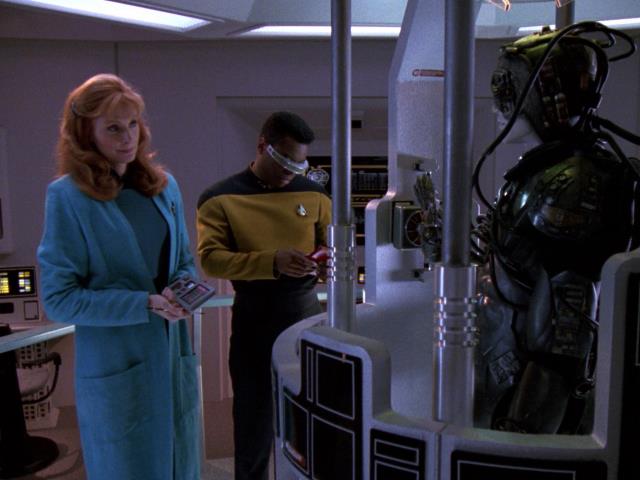 Synopsis
While surveying planets in the Argolus Cluster, the Enterprise answers a distress call and finds an injured, lone, adolescent Borg drone (named "Hugh" by Geordi and Beverly). They nurse him back to health and Picard orders the crew to use him to plant a "virus" into the Borg Collective. Picard and Guinan must both deal with emotions from previous Borg encounters.
Guest Cast
Whoopi Goldberg (Guinan)
Jonathan DelArco ("Hugh")
Notes
Hugh's original Borg designation is "Third of Five".

When Hugh is disconnected from the collective, his humanity begins to assert itself and he even begins to refer to himself "I" instead of "We" and tells "Locutus" he will not help assimilate his friend Geordi.

The "virus" is a geometric shape that can not exist. The Borg will theoretically spend all of their time trying to analyze it.

Picard decides to send Hugh back with his individuality instead of the virus. He'll regret it in the sixth season cliffhanger "Descent, Part I".
---