Star Trek: The Next Generation
---
"The Outcast"
| | |
| --- | --- |
| Episode Number | 117 (5.17) |
| Production Number | 217 |
| Season | 5 |
| Stardate | 45614.6 |
| Original Airdate | 16-Mar-1992 |
| Teleplay | Jeri Taylor |
| Director | Robert Scheerer |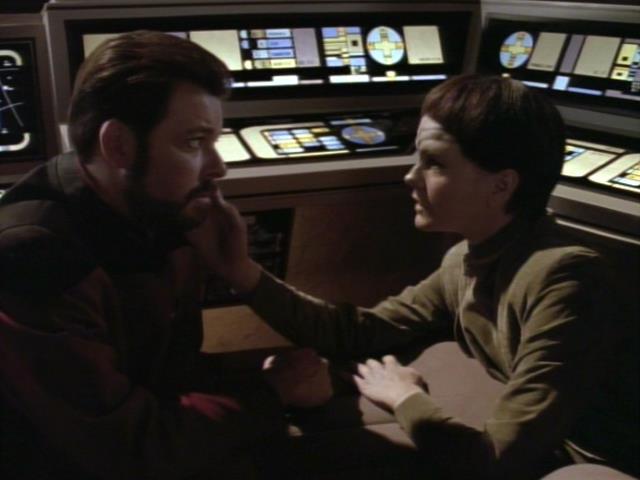 Synopsis
While investigating the disappearance of a J'naii shuttle, Riker's romance with Soren conflicts with their prohibition of male-female relationships.
Guest Cast
Melinda Culea (Soren)
Callan White (Krite)
Megan Cole (Noor)
Notes
The J'naii are an androgynous race, where no one has gender. Those with tendencies toward a gender are considered abnormal and are "cured" with shock therapy. Reproduction is asexual — the fetus is incubated in a fibrous husk which both parents inseminate.

The J'naii shuttle was trapped in a pocket of "null space".

The J'naii shuttle is the same ship as Rasmussen's time machine in "A Matter of Time".

Deanna states that the Federation was founded in 2161.
---