Star Trek: The Next Generation
---
"In Theory"
| | |
| --- | --- |
| Episode Number | 99 (4.25) |
| Production Number | 199 |
| Season | 4 |
| Stardate | 44932.3 |
| Original Airdate | 03-Jun-1991 |
| Teleplay | Joe Menosky & Ronald D. Moore |
| Director | Patrick Stewart |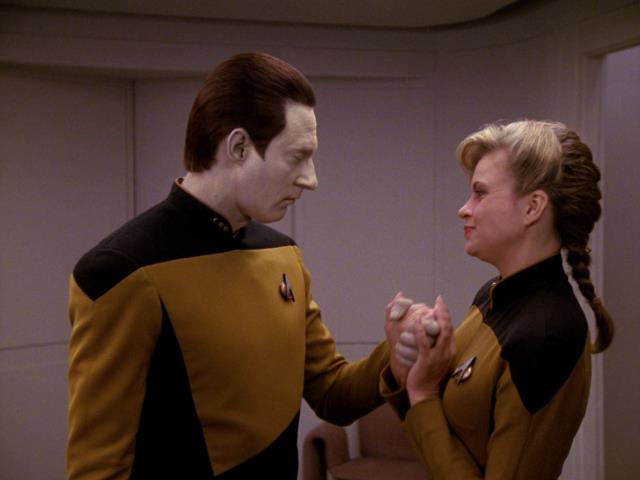 Synopsis
While Picard navigates the Enterprise through an unstable region of space, Data attempts a romantic relationship with a human crewmate, Lt. Jenna D'Sora.
Guest Cast
Whoopi Goldberg (Guinan)
Michele Scarabelli (Lt. Jenna D'Sora)
Rosalind Chao (Keiko O'Brien)
Colm Meaney (Lt. Miles O'Brien)
Pamela Winslow (Ensign McKnight)
Notes
This is Patrick Stewart's directorial debut.

Lt. D'Sora works in Security under Lt. Worf. She was working with Data in torpedo control to modify a photon torpedo for use in studying the dark matter nebula.

Jenna breaks up with Data at the end of the episode and he deletes the appropriate subroutine.

In a woodwind quintet concert in Ten Forward, Data plays the oboe, Jenna plays the flute, and Keiko plays the clarinet. (There are 2 unknown crewmen on bassoon and french horn.)

Data's cat, Spot, is seen in this episode.
---