Star Trek: The Next Generation
---
"Half a Life"
| | |
| --- | --- |
| Episode Number | 96 (4.22) |
| Production Number | 196 |
| Season | 4 |
| Stardate | 44769.2 |
| Original Airdate | 29-Apr-1991 |
| Story | Ted Roberts and Peter Allan Fields |
| Teleplay | Peter Allan Fields |
| Director | Les Landau |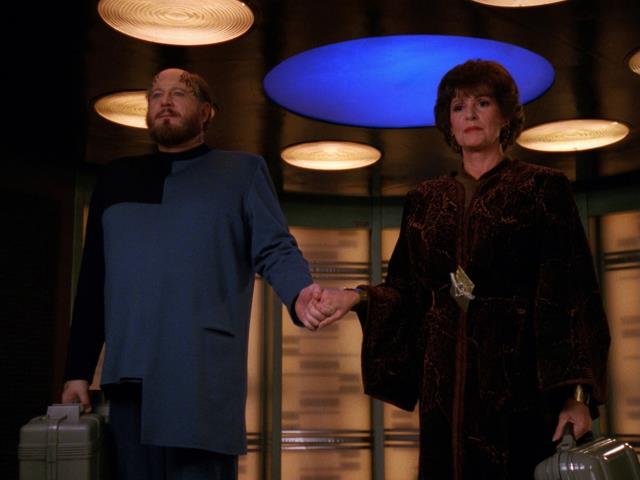 Synopsis
Lwaxana Troi falls in love with Timicin, an alien scientist on board the Enterprise for a scientific test to aid in saving his planet, Kaelon II. After an unsuccessful test, he confides to Lwaxana that his people expect him to return home to commit ritual suicide because he has reached age 60.
Guest Cast
David Ogden Stiers (Dr. Timicin)
Majel Barrett (Lwaxana Troi)
Michelle Forbes (Dara)
Terrence E. McNally (Minister B'Tardat)
Colm Meaney (Lt. Miles O'Brien)
Carel Struycken (Mr. Homn)
Notes
The Resolution is designed to eliminate the society's responsibility of caring for the elderly, allowing the citizens of Kaelon to die with dignity.

Michelle Forbes, Timicin's daughter, will later play the recurring character of Ensign Ro.
---