Star Trek: The Next Generation
---
"Allegiance"
| | |
| --- | --- |
| Episode Number | 66 (3.18) |
| Production Number | 166 |
| Season | 3 |
| Stardate | 43714.1 |
| Original Airdate | 26-Mar-1990 |
| Teleplay | Richard Manning and Hans Beimler |
| Director | Winrich Kolbe |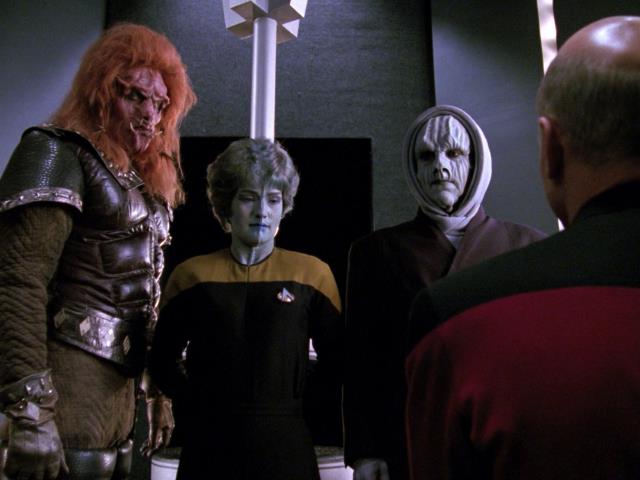 Synopsis
Picard is kidnapped and held in a room with three other aliens. Meanwhile, a look-alike imposter is leading the Enterprise into danger to test their idea of allegiance.
Guest Cast
Jocelyn O'Brien (Cadet Mitena Haro)
Stephen Markel (Kova Tholl)
Reiner Schone (Esoqq)
Notes
Cadet Haro's uniform is the first time the new cadet uniform is shown. Haro pretends to be a 1st year cadet (Cadet 4th Class), but is actually an alien studying the other three. She takes the form of a Bolian female, and her homeworld is Bolarus IX.

Picard visited Esoqq's homeworld of Chalna 12 years ago, when he was the Captain of the U.S.S. Stargazer.

The aliens are testing the concepts of authority, leadership, and allegiance.

The fake Picard engages in drinking songs in Ten Forward and begins to seduce Beverly, but then suddenly tells her to leave his quarters.
---