Star Trek: The Next Generation
---
"Samaritan Snare"
| | |
| --- | --- |
| Episode Number | 43 (2.17) |
| Production Number | 143 |
| Season | 2 |
| Stardate | 42779.1 |
| Original Airdate | 15-May-1989 |
| Teleplay | Robert L. McCullough |
| Director | Les Landau |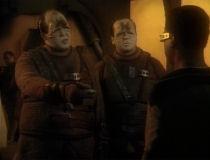 Synopsis
Riker negotiates with the Pakleds, who have taken La Forge hostage in order to get Enterprise technology. Meanwhile, Picard is away for cardiac replacement at Starbase 515.
Guest Cast
Diana Muldaur (Dr. Katherine Pulaski)
Christopher Collins (Pakled Captain Grebnedlog)
Leslie Morris (Reginod)
Daniel Benzali (Surgeon)
Lycia Naff (Ensign Sonya Gomez)
Tzi Ma (Biomolecular Physiologist)
Notes
Wesley accompanies Picard to Starbase 515. Apparently his score on the Academy Entrance Exam ("Coming of Age") was high enough that he receives credit for his studies on the Enterprise. On Starbase 515, he is being tested to make sure that he can continue his studies.

Picard tells Wesley that he was stabbed through the heart by a Nausicaan in a bar fight after graduating from the Academy. The story will be further explored in the 6th season episode "Tapestry".
---