Star Trek: The Next Generation
---
"When The Bough Breaks"
| | |
| --- | --- |
| Episode Number | 17 (1.17) |
| Production Number | 118 |
| Season | 1 |
| Stardate | 41509.1 |
| Original Airdate | 15-Feb-1988 |
| Teleplay | Hannah Louise Shearer |
| Director | Kim Manners |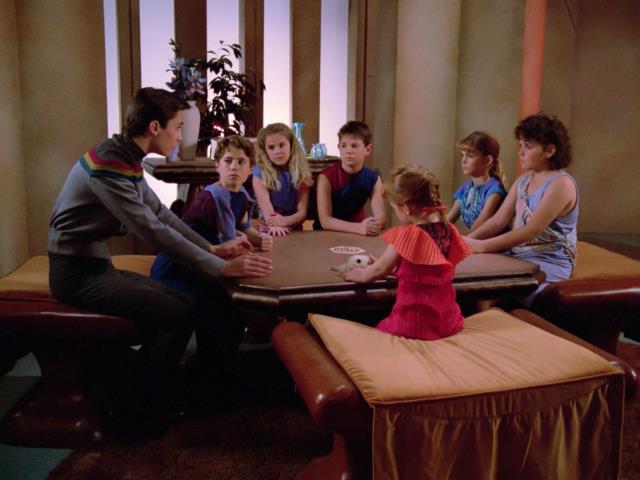 Synopsis
The sterile inhabitants of cloaked planet Aldea kidnap Enterprise children, including Wesley Crusher, to repopulate their culture.
Guest Cast
Jerry Hardin (Radue)
Brenda Strong (Rashella)
Jandi Swanson (Katie)
Paul Lambert (Melian)
Ivy Bethune (Duana)
Dierk Torsek (Lt. Bernard)
Michele Marsh (Leda)
Dan Mason (Accolan)
Philip N. Waller (Harry Bernard)
Connie Danese (Toya)
Jessica and Vanessa Bova (Alexandra)
Notes
The Aldeans are sterile because of exposure to high radiation levels due to their damaged ozone layer, which is caused by their planet's cloaking technology. Dr. Crusher treats the Aldeans and they deactivate their computer.
---